How to Set Up a Facebook Business Page That Attracts Customers
There's a lot of hype over Facebook commerce these days. What started out as a simple social media platform to connect with friends has evolved into a bustling marketplace. From trendy apparel to granola bars, there is no dearth of variety of the products being sold.
One of the momentous changes that Facebook has brought about is in the handmade business community. Due to this, handmade business has become way more than just a hobby today. With the amount of money that it is making, creative entrepreneurs are springing up frequently to make the most of the Facebook community that is 2-billion-active-user strong.
But there's a catch.
With too many handmade goods businesses vying for the fame, many are feeling the pressure of the rat race. It can be a real struggle to stand out amongst the crowd. Good news is, there are ways to overcome this.
If you are a handmade goods business owner, we have a few tricks up our sleeves that can help your business become a real crowd-puller on Facebook. Let's take a look at how to build your page like a pro.
Update Your Basic Info
Everything starts with your Facebook business page. So, you need to add the following to make it look complete:
Your brand name
A little about your business
A profile photo (Ideally, the logo)
A cover image
These are the basics. Check out the following video to create a business page easily.
Add a Call-to-Action
Next comes the call-to-action button. You would find the option to add this button right below your cover image. You can choose what you want your call-to-action to say depending on your business. For example, you can choose from among 'Shop Now', 'Contact Us', 'Send Email' etc. Next, enter the relevant link and add the button. Now, this button will show up on your business page.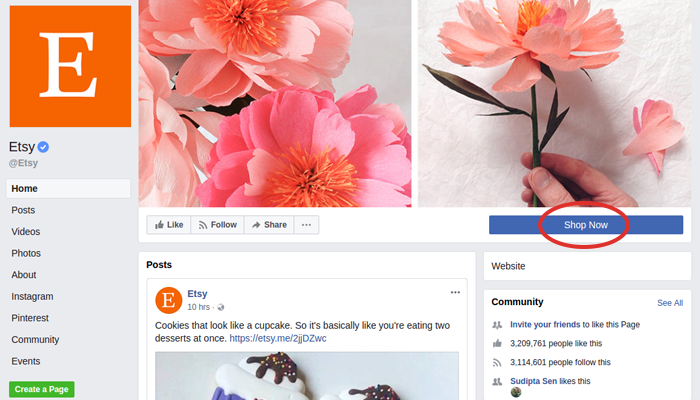 Following is the mobile view.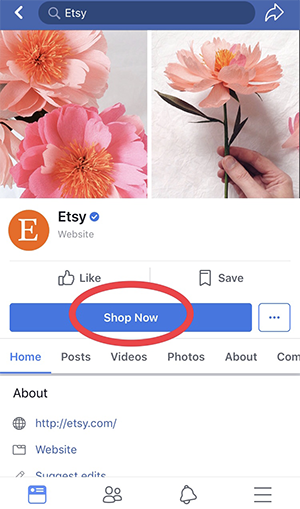 Turn on Messaging
People tend to trust a business they can reach out to easily. Hence, adding a messaging option on your page can improve your credibility.
Click on 'Settings' at the top of your business page. From 'General', go to 'Messages'. Click to check the box against 'Allow people to contact my Page privately by showing the Messages button'.
Here's what your page will look like after.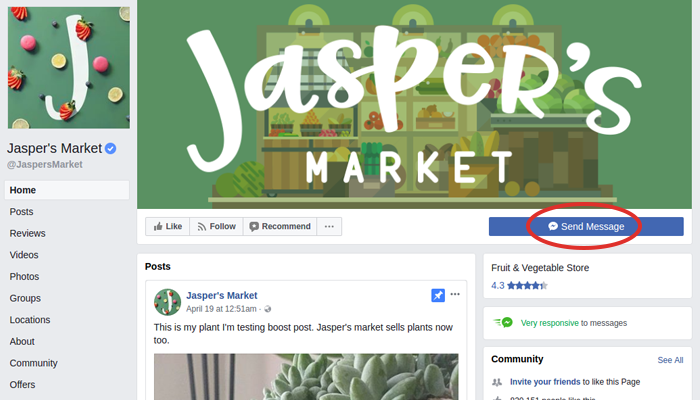 Following is the mobile view.
Once you start receiving messages, try being quick to respond. It will make your customers feel valued.
Add Your Products
Now it's time to set up shop. Click on the 'Add Shop Section' button and proceed to the payment processing details. Enter your Email address which would serve as a communication channel for customer inquiries and also your business's physical address. You can choose between two payment options:
Payment through your Facebook page
Payment through your online store
For the former, you can link your Facebook business page to your Stripe account. If you do not have a Stripe account, you need not worry. Click on 'Connect to an existing Stripe account' and Stripe will guide you through the process. This payment method is convenient for customers since they do not have to leave Facebook for buying a product.
However, it may not be applicable outside the USA.
The second option is for checkout on another website. You can redirect your customers to your online store for the transaction.
Once you have the Shop section set up, your call-to-action button will be automatically changed to 'Shop Now'.
That said, implementing this step entirely depends on how you wish to sell your products. You may choose to skip it altogether and display your products as posts too.
Create Engaging Posts
By now you have set up a Facebook page to sell your handmade products. So have thousands of others. What makes you any different?
It's the posts you create that will make all the difference. The trick is to make your page less about your products and more about your target audience. In other words, you need to showcase how your products are going to benefit your customers.
Here are a few ideas you can use in addition to posting images of your products:
People love behind-the-scenes visuals. It adds transparency. You can create a short video about your process of creating your products and how that makes you different.
Turn to Facebook Live. You can live record a quick DIY, a tutorial on how to use your product, a fun event you are at etc. Like Martha Stewart does. When you get in front of the camera, it will humanize your brand. It will add a face to your business identity. This will make your followers trust you.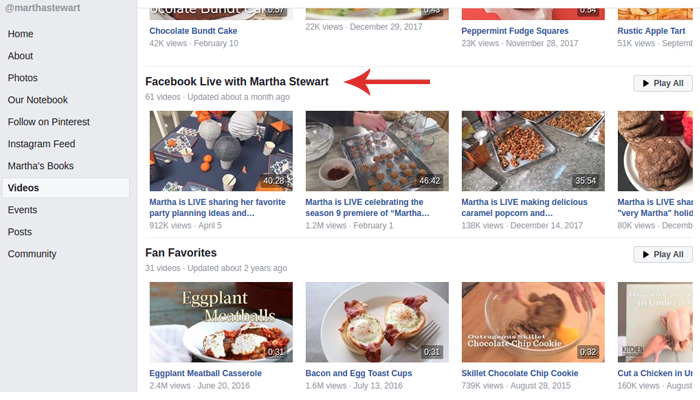 Show your product in use. Ask your customers to send photos of how they are using your products.
Create posts on trending topics. Not all your posts have to be about your products.
Talk to your customers. Ask them questions through your posts. Engage them with a poll, survey, a challenge etc. People get really active with that sort of thing. Check out Nutella's post for some ideas.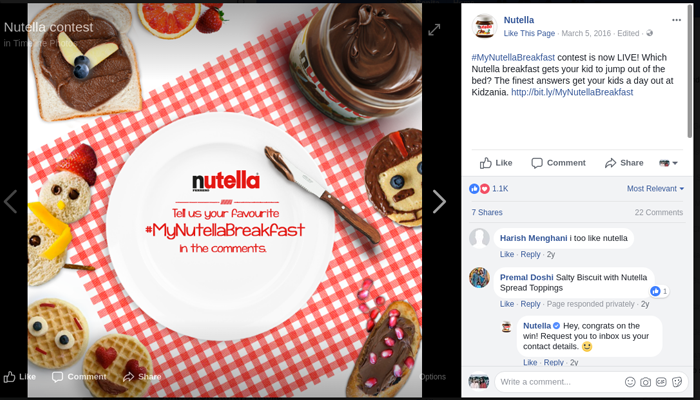 No matter what you post, remember to be consistent and original always.
Promote Your Page
One of the easiest ways to promote your Facebook business page is by creating an ad. And Facebook has made this process a lot smoother.
You can choose to promote your page, posts in it, your website etc. through Facebook. The best part about Facebook ads is that they are highly targeted. You can target your ads based on your audience's location, age, gender, and interests. You need to set a budget and the duration for which you want the ad to run. This completes the ad creation process. Now the ad will show up on the right-hand-side section of your audience's news feed.
For small businesses, the 'Boost Post' option comes in handy. It gets your posts in the newsfeed of your target audience like a normal post. You can only boost posts individually. Here's a quick guide to follow.
Sure these methods would get the word out about your business, but they cost money. If you are on a shoestring budget, you can consider implementing the following methods:
Invite your friends to like your page and request them to share the link with their friends. You can also send an invitation message to your friends and colleagues through Messenger.
Include a link to your Facebook page in the Emails you send out from your business ID
Posting useful content can also get your page noticed. Think about what your followers would share on their profiles. Keep in mind that users tend to share stuff that makes them look good.
If you have a blog, you can embed Facebook post updates in it. Here is a guide on how to do that.
Get your followers/customers to review your business on Facebook
Offers, discounts, occasional giveaways can also increase the reach of your page.
If you are following these steps more or less to the T, you would see your fan following rise steadily. Be patient and keep at it. Remember, Rome wasn't built in a day.