5 Brilliant Uses of Chatbots That Would Leave You Surprised
Technology has made it a lot easier for us to complete our daily tasks. From ordering food to booking flights, everything can be achieved at the click of a button.
But what happens when we need assistance or face a problem with any of these? We turn to the customer support. Now what if I told you that this service does not necessarily have to be manned by a human being?
Enter chatbots.
A computer program that is designed to stimulate conversation with a person. How does this help? It communicates with a customer just as a customer support executive would. It answers questions, handles requests and astonishingly, mimics human decision-making!
Chatbots have evolved since their inception and have found use in multiple industries. Let's take a look at some chatbot implementations that would amaze you.
Erica – Bank of America
Bank of America has launched a virtual assistant that goes by the name of Erica. Erica can help the bank's customers manage their finances through the bank's mobile app. Erica can provide balance information, pay bills, answer banking-related queries etc. It also has a predictive feature that provides advice on savings too!
Zootopia Bot
We all remember the comedy-adventure movie Zootopia. Set in a world of anthropomorphic animals, Judy Hopps and Nick Wilde uncover the mystery of the missing predators. You would be surprised to know that a Facebook Messenger bot was released for the fans of this Disney movie where they could engage in a one-on-one mystery-solving game with Judy Hopps. This inquiry-based bot allowed fans to investigate different mysteries through questions and the bot would respond accordingly. Sadly, the Zootopia chatbot lasted only for 16 days.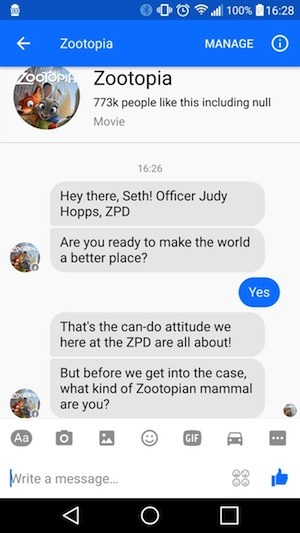 (Image Source: https://www.laughingplace.com/w/news/2016/05/31/judy-hopps-needs-help-solve-mystery-facebook/)
Endurance Chatbot
Endurance Robots, a Russian-American technological startup, has come up with a chatbot designed to communicate with patients suffering from Alzheimer's disease. This was designed to overcome the challenges that dementia-diagnosed patients face in communicating with their family members.
This chatbot acts as a virtual companion to such people and can converse with them on topics like weather, movies, news, music etc. It has the ability to keep track of the dialogue history to maintain coherence in the communication. It can also identify any deviation in the conversations. Its cloud-based nature enables it to inform the patient's doctor and family members about this deviation.
H&M Bot
One of the most popular uses of chatbots is in the retail industry. H&M has launched a bot that helps customers pick their outfit by asking about their preferences and providing suggestions based on that. It can also display accessories from the H&M's catalog to match an outfit that the customer has chosen. No doubt, such chatbots can easily pull in a lot of sales in this e-commerce-powered world.
DoNotPay
What surprised me the most during my research for this article is that I found a chatbot that actually enables people to appeal their parking tickets. What's more amazing is that this was created by a 19-year-old student, Joshua Browder.
This bot comes with a sign-in feature. It asks questions to the user to learn the details of his/her parking ticket case and analyzes if the user is eligible for an appeal. If s/he is, it will generate a legally-sound appeal letter that can be brought to the court. DoNotPay has contested 160,000 parking tickets successfully in New York and London – that too, for free. True to its purpose, it has been named as the worlds first robot lawyer.
Later, this chatbot's functionality has been extended towards airline delays as well.
Now, the question that pops up on our minds is, will chatbots replace human conversations? Considering how fast things are moving, it could. And this would help businesses immensely by automating mundane tasks and saving time to focus on other core areas.
There is no doubt about the fact that chatbot is the next disruptive trend that will stick for years to come. Now the question is, how would you leverage it to help your business?