A Complete Guide on How to Set Up Your Business on Instagram
You must have heard of advertising products on Instagram. But you are not too sure.
You are wondering whether you can actually capture any leads on Instagram. With the big brands snatching all the limelight on this app, you are doubtful whether your startup would stand a chance.
Actually, you cannot be any further from the truth.
Instagram has 800 million monthly active users, out of which 70% are more likely to make mobile purchases.
More than 25 million businesses are leveraging this fact. So your startup could be missing out on some big sales without an account.
Keeping that in mind, let's take a look at how to set up a business account on Instagram and sell your products easily.
How to Set Up a Business Account on Instagram
Once you download the app, create a personal profile. Alternatively, you can use your Facebook account to sign in.
Now, go to the Settings option ('gear' icon) in your profile, scroll down and click on "Switch to Business Profile".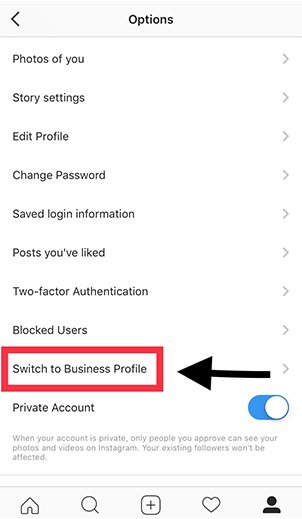 You will be prompted to connect your business's Facebook page to it. You can only connect one Facebook page per Instagram business profile.
Next, update your business's contact information to get started. This is very important. Do not miss out on any field. This will open up multiple options for your potential customers to reach you. You can also edit your contact details after setting up the profile.
That's it. Now you are all set to start selling on Instagram.
How to Optimize Your Instagram Profile for More Sales
1. Complete Your Business Profile
The Instagram profile you create is going to speak for your brand. Hence it should include the following:
Profile Picture – For starters, use your brand's logo. That's easy to identify for your followers.
Bio – Be clear about what your brand has to offer and keep it to the point
Website – This is the clickable link in your bio. Keep the URL short. Ensure that this page is mobile-friendly.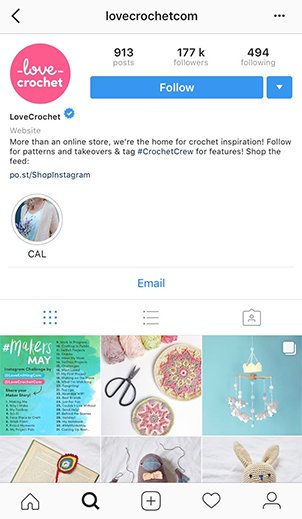 Check out how this crotchet brand used the bio link to smartly direct users to their shop with the items presented in the same order as their Instagram feed. This maintains continuity.
2. Create Attractive and Shoppable Posts of Your Products
Keep in mind that Instagram, at its very basic level, is a photo-sharing app. So, your posts need to be visually appealing.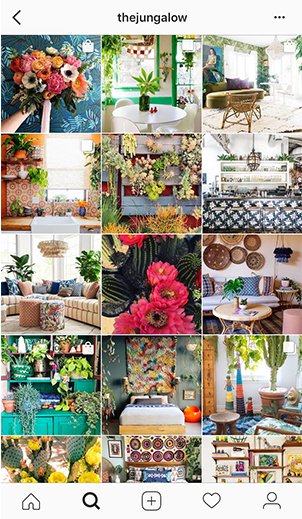 I personally like how one NYC-based designer, Justina Blakeney has designed her brand, The Jungalow's Instagram posts.
Instagram has recently launched 'Shoppable Posts' in several nations. This feature allows business owners to directly link the posts to their online product pages. Read this detailed guide on how to make your posts shoppable.
A small shopping bag icon appears on the posts that you have made shoppable. That is the identifier.
Instagram has partnered with social media management platform, Hootsuite for its new post scheduling feature. To avail this, you need to have an account on Hootsuite and add your business's Instagram account to the Hootsuite dashboard. This article explains how to do that easily. This will help you be consistent with your posts without having to worry about it every day.
3. Use Relevant Hashtags
Instagram is big on hashtags. The right hashtags have the power to direct leads your way in no time. But how do you find the right ones? Here are 4 tricks that work:
Check out what your competitors and influencers in your domain are using
You can consider branding some of your hashtags with your company name or product name. This can help you score big on Instagram's new feature that allows users to follow hashtags.
Hashtagify.me is an excellent tool to find hashtags that work
Type your keyword in the Instagram search box and select 'Tags' tab. It would show you a list of relevant hashtags and the number of posts that have used the tags. Check out the engagement in these and you will have an idea about which ones to use to pull in more followers.
Instagram allows you to use a maximum of 30 hashtags per post. But do not max out on this limit since that would make your post look amateurish.
4. Make Use of Instagram Ads
When starting out, it can be a chore to get your posts noticed among the millions of similar posts made by big brands. This is where Instagram ads come in handy.
Instagram provides a variety of targeting options. You can select where to place the ad, who to target, how long you want the ad to run for etc. As of now, Instagram provides 4 kinds of advertising options:
Photo ad
Video ad
Carousel ad
Stories
Check out the complete Instagram ad guide.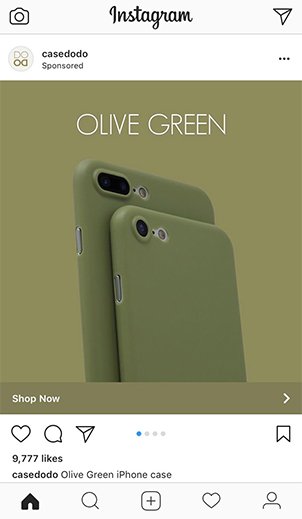 This is an example of a carousel ad.
5. Leverage Instagram Stories
Instagram Stories is a replication of Snapchat – only better. You can add relevant links to your Stories to direct viewers to your business. This link shows up as a 'See More' option at the bottom. Tap on the profile picture to start posting a Story.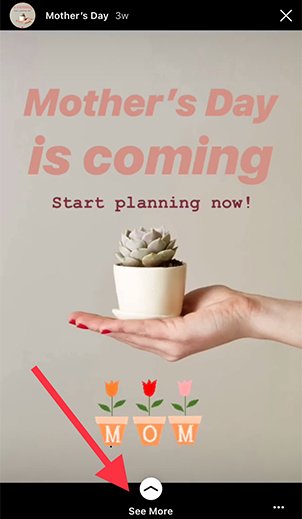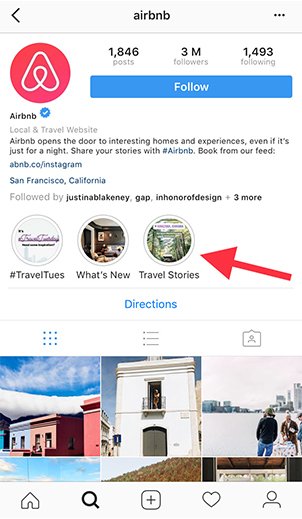 Instagram allows you to archive your Stories. This means you can keep your stories indefinitely and re-use them. You can also highlight your Stories in your business profile right under the bio.
Instagram has evolved a lot since its initial days. Majority of the updates have been made keeping business profiles in mind. Hence, you are bound to find a number of excellent business optimization features here that you wouldn't find elsewhere. While it might take some practice and experimentation initially, your Insta selling is going to get smoother as you get the hang of it. Rest assured, you are going to start seeing results in a short time. Keep an eye out for further updates as you go.