E-commerce Automation Series – Part 4 | Vendor/Supplier Onboarding
Whether you are a B2B or a B2C e-commerce business, the relationship with your vendor or supplier is crucial. A supplier is the first link in your supply chain and usually exists in a B2B sense. A vendor, on the hand, is the person who sells the products to the end customer. While you could be a supplier or a vendor yourself, you still rely on a vendor or a supplier respectively to get your goods moving.
Quite naturally, there is a lot of information exchange between the two entities. Sometimes you may need to switch vendors or bring in a new supplier. That's a lot of paperwork. It's tedious. It's slow. And it's monotonous. As several players and moving parts come into consideration, this process often gets characterized by frustrations and delays. To eliminate such situations, increasingly, companies are realizing that a strong onboarding process is vital to nimbly respond to changes in the supply chain. This is where e-commerce automation in supplier and vendor onboarding comes in.
E-commerce automation is a huge shift. Therefore, like with any facet of e-commerce automation, the vendor/supplier onboarding too, needs to have clarity first. Because unless you know what exactly you need from the switch-up, you are going to be in deep waters as soon as you plug in. So let's start from the basics.
Where Does Vendor/Seller Onboarding Fit into the Seller Enablement Funnel?
Imagine you have an e-commerce marketplace. There are a range of suppliers or sellers who sell on your platform. Seller enablement is all about empowering these suppliers to set up shop efficiently and sell more effectively on your platform.
How? By having them go through the following steps: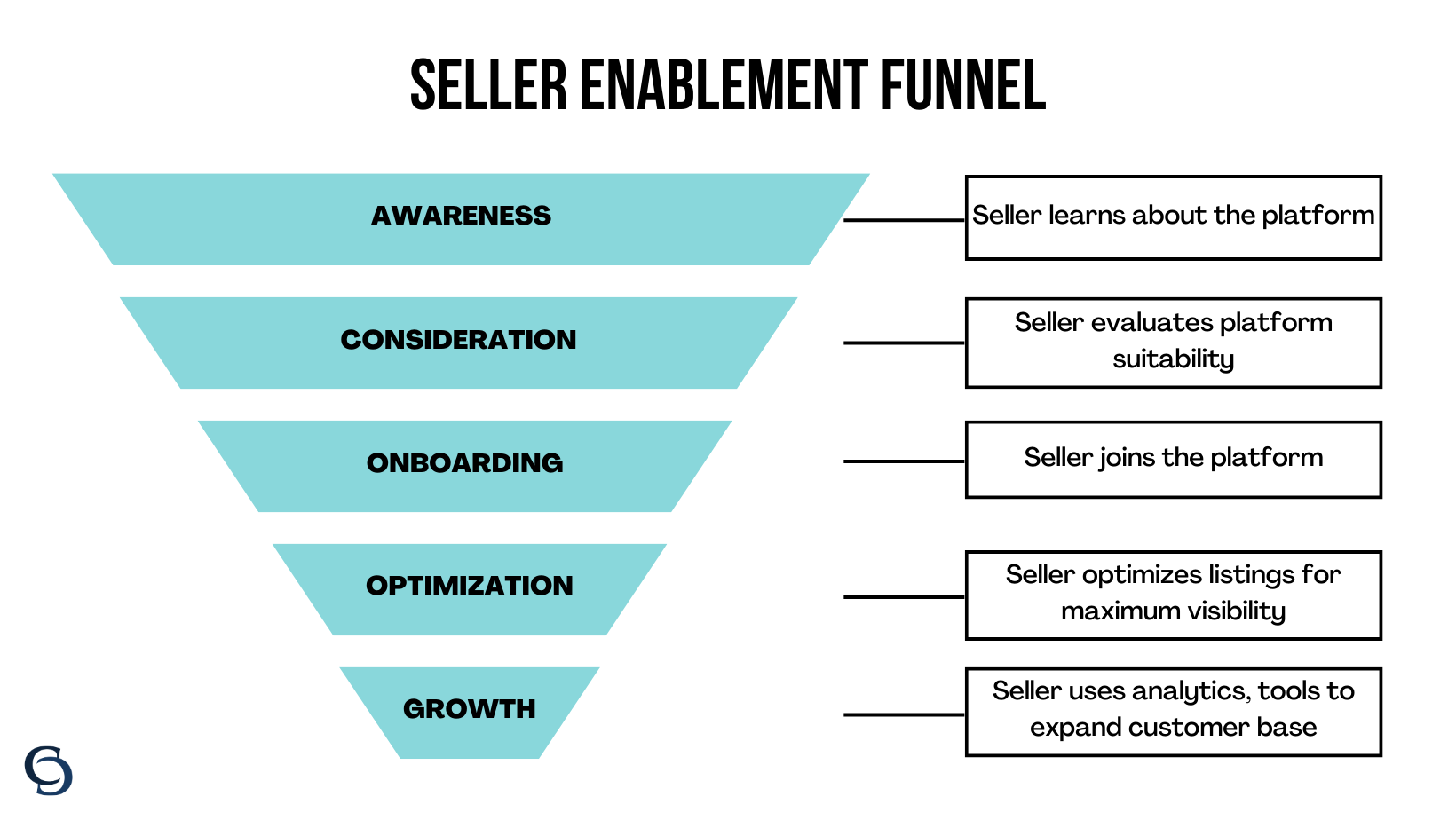 AWARENESS

: Sellers learn about the platform and its benefits through promotional materials, ads, or referrals.

CONSIDERATION

: Sellers evaluate the platform's suitability, comparing features, fees, and policies.

ONBOARDING

: Sellers join the platform, complete necessary documentation, and set up their seller accounts, product pages, etc.

OPTIMIZATION

: Sellers optimize their listings, marketing strategies, and pricing to maximize visibility and attract customers.

GROWTH & EXPANSION: Sellers focus on growing their businesses by utilizing analytics, exploring new markets, and reaching a larger customer base.
This constitutes the seller enablement funnel. As you can see, onboarding sits right in the middle. And it also happens to be the most time-consuming step because it involves:
Gathering information

Verifying credentials

Setting up payment terms

Negotiating contracts

Connecting the supplier's systems to the retailer's (your) platform for streamlined operations and transactions

Running tests to ensure that the orders are going through

Providing the right tools and resources to manage products, orders, customers, etc.
This process involves multiple stakeholders such as the merchandising department, finance department, and legal department. Since there is a lot of data entry involved, manually handling this process makes it prone to errors and takes a lot of time.
A Few Benefits of E-commerce Automation in Vendor/Supplier Onboarding
Here's what e-commerce automation does to your onboarding process:
Streamlines the process

Saves time in integrating vendors/suppliers into your business

Ensures supply chain compliance

Identifies potential-risk suppliers and helps protect brand value

Reduces errors significantly, keeping records accurate and updated in real-time

Enhances vendor/supplier experience
Preparing for Supplier/Vendor Onboarding Automation
As I've already mentioned before, e-commerce automation is a huge change to your traditional vendor/supplier onboarding process. So before jumping into it, you need to align a few things, make a few refinements, and most importantly, have a clear direction to prepare for it. Here's how:
1. Analyze the Current Process
Begin by understanding your current onboarding process. Identify areas of inefficiency or heavy manual intervention that could benefit from automation.
2. Define Goals for E-commerce Automation
Based on your analysis, define what you want to achieve through e-commerce automation. This could be faster onboarding, less manual data entry, improved compliance checks, etc.
3. Align Stakeholders
Since there are multiple teams involved in the onboarding process, there are a lot of expectations that need to be matched with e-commerce automation. Meet with your merchandising, finance, marketing, legal, and other teams involved in the process to ensure there is clarity on their requirements and how e-commerce automation will meet those, how automation will affect their day-to-day work, and what changes to expect in the onboarding process.
4. Map the Onboarding Process
Start by identifying each step in your current onboarding workflow, from initial contact to full integration. Then document these steps in a visual format (like a flowchart) to provide a clear overview of the process, highlighting key interactions, decision points, and areas for potential improvement.
How to Map Out the Onboarding Process for Efficient E-commerce Automation
The goal of onboarding automation is to reduce the time between the initial contact of the supplier/vendor with the e-commerce marketplace and the first sale. Success depends on two factors:
The e-commerce marketplace's seller enablement prowess

Supplier's/vendor's technical capabilities
Let's say you are a retailer selling goods on your online marketplace. And you are onboarding a seller (supplier). Here's what you need to do:
Your merchandising team needs to get in touch with the supplier's primary contact in the partnership. This contact is probably going to be the person getting on calls to understand your process, uploading the documents, etc. 
Your team needs to have a list of all the documents that the seller needs to fill, sign, and submit. These include NDAs, agreements, terms, insurance forms, etc. Typically, you should be sending this checklist to the seller before onboarding.
Along with the document checklist, your team should also provide the seller with a list of technical requirements (depending on your marketplace features) that needs to be matched by the seller's systems to be able to seamlessly connect the two. Based on this list and how compatible the seller's system is with your marketplace, the seller might need to source software, file format converters, etc. to plug into your system. At this stage, it is ideal to set up calls with the seller's primary contact, conduct demos, and provide the necessary documentation to make this as smooth as possible.
While these technical details are being straightened out, your marketing team can jump in to prepare co-marketing materials for the launch, plan marketing campaigns, etc.
How to Achieve E-commerce Automation Through Vendor/Supplier Onboarding
Now that the roadmap is prepared, we are ready to get on with the automation. The first step is to choose the right automation tool for your e-commerce business. Ideally, it should be the one that integrates well with your existing systems and serves your requirements. Let's take a look at some.
RECOMMENDED ONBOARDING AUTOMATION SYSTEMS FOR YOUR E-COMMERCE BUSINESS
It offers a holistic, cloud-based approach to supplier management, making it a comprehensive solution for vendor onboarding and collaboration.
Key Features:
Supplier information management

Risk assessments

Performance tracking

Contract management

Supplier lifecycle management
Coupa provides a centralized platform for streamlined supplier management, offering an intuitive interface and robust risk monitoring tools.
Key Features:
Customizable onboarding forms

Document management

Real-time supplier risk monitoring

Performance metrics and reporting

Integration with other Coupa procurement solutions
It is a robust vendor and contract management software that excels in automating supplier onboarding with customizable workflows and intelligent reminders.
Key Features:
Customizable onboarding workflows

Document management

Automated reminders

Vendor performance monitoring

Risk management and compliance tracking
Precoro simplifies the procurement process with its cloud-based platform that automates supplier data collection and document management.
Key Features:
Automated supplier data collection

Document management

Seamless communication tools

Integration with popular accounting systems

Real-time budget tracking
GEP SMART unifies procurement in one platform, simplifying supplier onboarding, management, and collaboration.
Key Features:
Supplier information management

Risk monitoring

Performance tracking

Contract lifecycle management

Spend analysis tools
Now that we have the options listed, it's time to take your pick. Once you've done that, the following steps will come in handy:
1. Customize the Onboarding Workflow
Configure the software to match your onboarding process. This might include inputting the required data fields, setting up automated emails for communication, defining tasks for vendor compliance checks, and so on.
2. Train Your Team and Vendors
Once the software is set up, ensure your team understands how to use it. It's also beneficial to provide training or resources for your supplier/vendors so they know what to expect during the automated onboarding process.
3. Monitor and Optimize the Process
After implementing the automated process, keep track of its performance. Gather feedback from your team and vendors/suppliers and make necessary adjustments to improve the system.
What Does a Fully Automated Vendor/Supplier Onboarding Look Like?
A fully automated supplier onboarding process is a streamlined, efficient, and largely hands-off operation that ensures every new supplier is ready to do business on your platform effectively and in alignment with your standards and policies. Here's what it typically looks like:
1. Supplier/Vendor Registration
A potential vendor visits your e-commerce platform's registration page. They fill out an online form, providing necessary information like business name, contact details, tax information, etc. This form is automatically submitted to your system.
2. Document Submission
The system prompts the vendor to upload necessary documents like business licenses, certifications, etc. These documents are automatically stored and organized in the system.
3. Validation & Verification
The system automatically verifies the data provided, checks documents for completeness, and can even run background checks to validate the authenticity of the vendor.
4. Agreement & Compliance
The system sends the vendor necessary agreements like terms of service, privacy policy, etc. The vendor accepts these agreements electronically. If there are compliance checks to be completed, such as sustainability standards or ethical practices, the system guides the vendor through these as well.
5. Training & Resources
The system provides vendors with automated training modules, resources, or tutorials about listing products, managing orders, customer service expectations, and more. This can be in the form of written guides, videos, or interactive modules.
6. Communication & Notifications
The system automatically keeps vendors updated on the status of their onboarding, sends reminders if any step is incomplete, and confirms when the onboarding process is complete.
7. Integration with Platform
Once onboarding is complete, the vendor's products are automatically integrated into your e-commerce platform's product catalog.
Are You Looking for Assistance in E-commerce Automation for Your Supplier/Vendor Onboarding?
Look no further than Codaemon. 
Whether you're struggling with organizing your supplier base, dealing with manual tasks in onboarding, unsure about the right automation tool for your website, or need customizations in your automation software, we can provide the right solutions. With our deep industry knowledge and practical expertise in e-commerce automation, we are committed to making the onboarding experience seamless and efficient for retailers like you. Get in touch with us at (443) 718-0003 or email us at support@codaemon.com to explore how we can assist you.
Read the first three parts of the automation series here: