Automation Series – Part 3 | How to Automate Customer Service
Customer support and experience are crucial elements of an e-commerce website. Naturally, it requires a lot of work to perfect these areas. Thankfully, you can automate customer service to some extent to ease the burden.
E-commerce is booming. Sales are up. Customers are shopping online in much higher volumes than ever before. As the orders pile, so does the need for good customer support. Because people are going to have questions and they are going to need help with a lot of things. This increases even more during the holidays. That's when the returns go up too. In fact, e-commerce purchases are returned at double the rate than purchases made from physical stores. Factoring all of these in, it is no wonder why big brands invest a fortune in customer support.
However, not all businesses have the capital to hire a large support team. This is where automation comes in handy. Before we get into how to automate customer service, it's important to be clear about one thing. Human intervention is a crucial part of customer support. People trust people and not machines. But there are several areas in customer experience and service that can be streamlined through automation without breaking that trust. Let's take a look at them.
Integrate Live Chat to automate customer service
If there is one thing that e-commerce customers hate, then it is waiting for an answer. So when you keep customers' queries queued for hours or sometimes, days, you stand a chance of losing them, dragging all that acquisition cost down the drain.
Chatbots, on the other hand, provide instant assistance. And it also meets your customers right where they are on their purchase journey. Let me break that down for you. Let's say you sell knee supports and other medical products. When a customer lands on a knee support product page, they may doubt whether the product comes as a pair or is a single product. If you have a live chat feature in your product page, they can quickly pull that up and type in the question for a real-time answer. This achieves two things:
Your customer no longer needs to wait before making the purchasing decision, or worse get frustrated with the wait time and move on to your competitor

Since chatbots collect data, you now have an idea of whether this is a frequently asked question. If it is, you can consider updating your product description to make the customer experience smoother.
This gets even more effective when the purchase decision has been made and the customer is at the checkout stage. If they have a query about the shipping method, a chatbot can immediately provide support, thus preventing cart abandonment. 
Two Examples of Live Chat
Not only does a chatbot automate customer service, but it can also act as a virtual styling assistant. For example, H&M's chatbot asks a few multi-choice questions (like choosing between two outfits, etc.) to identify the style persona of a user and then displays a personalized outfit with all the items listed alongside. Users can purchase the entire combination or selected pieces or save them to buy later.
Mattress company, Casper has found a whole new usage for its chatbot, Insomnobot3000. It operates between 11 pm and 5 am and acts as a companion for those suffering from insomnia. It isn't designed to provide product suggestions. Instead, it responds to freely typed questions and is very conversational. So how does this help with Casper's sales? It doesn't. It acts as a brand awareness tool.
Let's take a look at some of the best chatbots that you can use for your e-commerce business:
Recommended Chatbots for Your E-commerce Business
Features:
Serves several platforms (native, Facebook, SMS)

Unified chat inbox

Has an extensive suite of chatbot tools

Ready-to-use templates

Multi-lingual

Mobile-friendly

Provides analytics and reporting
Features:
Comes with conversational forms to generate leads

Integrates with multiple platforms

Multi-lingual

Enables payments via Stripe

Supports basic analytics and creates simple to advanced reports
Features:
Integration with CRM, e-commerce, and social media platforms

Uses Natural Language Processing to determine customer's query

Helps customers track order status

Banning tools for visitors to prevent spam

Automated answers for frequently asked questions

Identifies cart abandonment locations
Features:
Integrates with Shopify, Facebook, SMS, Klaviyo, etc.

Enables creation of personalized messages

Helps with sales cycle automation

Provides comprehensive reporting

Comes with pre-configured templates and media integrations in chat
Prioritize Customer Service Requests
In an ideal world, when a customer reaches out to you, they get an immediate resolution. But with a deluge of incoming customer requests along with the other customer-facing tasks a growing e-commerce company has to handle, it becomes unrealistic. This is where you move on to automate customer service and experience. But how does automation work here?
Think of how you work on customer service tickets. Taking them up on a first-come-first-serve basis seems like a logical and direct way to address them. But the smarter way is to prioritize your tickets according to the nature of the problem. A ticket can be assigned tags like 'High', 'Medium', or 'Low' based on the query.
What Makes a Query High Priority
1. Customer Lifetime Value
Does your customer hold a premium account with you? Do they frequently make high-value purchases? Or do they pay for exclusive support? If your CRM is set up to measure the lifetime value of a customer, you will automatically know which customers are big spenders. It would be a sensible move to take up their requests first instead of one-time customers.
2. Customer's Location in the Checkout Journey
Is the customer unable to checkout? Drop everything and look into what's causing the friction. It takes only a few seconds to switch to a different e-commerce brand if customers can't buy from you instantly. Any pre-sales question is of high priority because the goal here is to close that deal.
3. Customer Threatening to Leave for Your Competitor
Use an automated keyword identifier to look for keywords like 'competitor' or competitor brand names in customer complaints. These queries denote churn risk and need to be addressed urgently. Once you have identified these queries, spend time to tie them in with topics like 'missing item', 'wrong product', 'wrong size/color', 'late delivery', etc. This will give you the primary causes of churn for your brand.
4. Customers Threatening to Leave a Negative Review
One negative review is enough to put potential customers off from buying from you even if you have fifty positive reviews. Bump these queries up the priority list to avoid a negative review.
5. Repetitive Issues
Mistakes happening more than once is unforgivable in the e-commerce world because the competition is huge. While moving these requests up the priority ladder is important, another approach would be to identify the root cause of the issue. For example, if it's an expired discount code error, you can automate the response instead of addressing the same query on priority every time.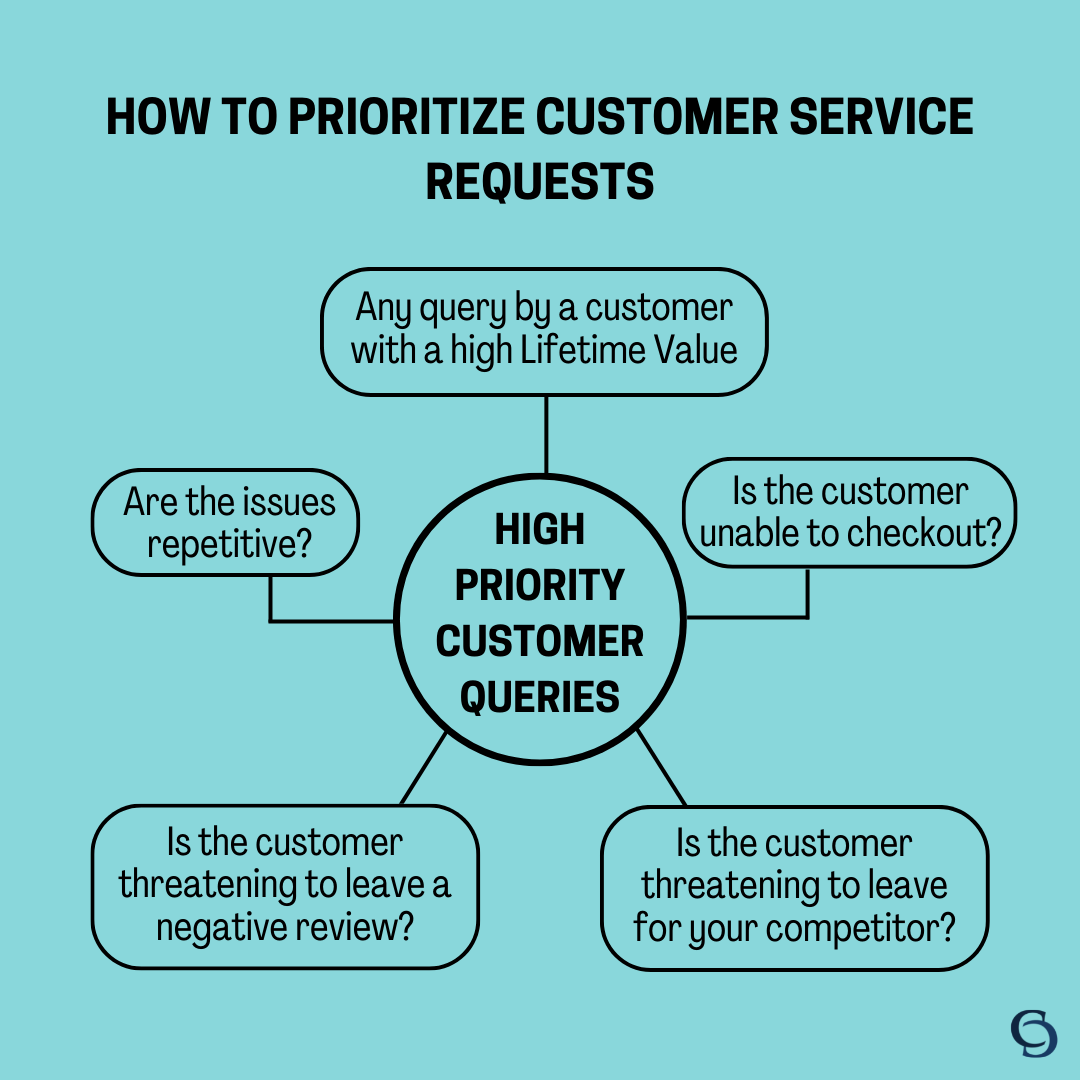 Recommended Ticketing software for your e-commerce business
Automated ticket prioritization can be done by dedicated software using Natural Language Processing (NLP), sentiment analysis, application of real-time tags to support tickets, etc. Some of the top ticketing software include:
Set Up Customer Self-Service Elements
If you look closely at your customer support queries, you will find that a lot of those can be resolved without any kind of intervention. This can be achieved by setting up customer self-service elements on your website. This means instead of only finding ways to automate customer service query responses, it makes a lot of sense to make the necessary information available to them.
For example, if a customer has a query about returning a product, they should be able to get the information they need without talking to an agent or a chatbot. What you need to do here is set up avenues to help customers help themselves.
To be able to set up self-service segments, you will need to find out the common queries that your customers have. For example, queries can be about refund, payment, problems in understanding product usage post-purchase, and so on. Next, use the following methods to build self-service elements to address these queries.
Recommended Self-service elements for your e-commerce business
1. Dedicated Help Center
Create an entire self-help page containing separate articles for common queries. These can be 'How-to' articles, explanatory videos, tips, detailed product descriptions, etc. Or, within the help center, there can be separate pages to address Returns & Refund, a list of item types that qualify for return/replacement, instructions on using return shipping labels, payment options, installment eligibility and details, etc.
2. FAQ Section
Have a list of frequently asked questions and answers displayed either on the Home page or on the required pages. For example, some products do or do not come with certain necessary accessories, some can come with installment options for payment that can confuse users, some queries can be generic about shipping, etc. An FAQ section on the required pages can solve these instantly.
3. 'Getting Started' Emails
Some products have a steep learning curve. In such cases, users end up calling customer support far too often and sometimes, for trivial issues. A well-documented product manual on the website can serve these queries well. You can also send these instructions out via post-purchase emails as a part of a 'Getting Started with Your Product' series.
4. Product Tracking Information
Users generally have a lot of queries about product delivery. 'Why isn't my product delivered yet?', 'Where is my product now?' etc. Having product tracking information on your website as it moves through the supply chain will help answer these questions.
5. Include Non-Product Search Queries
When you include self-help sections on your website, it's important to make these sections easily accessible to customers. The most common place that customers will look for help is Search. Ensure that your website search supports non-product search queries. You can also create a prominent self-service widget that can lead customers to all the self-help resources.
Manage Data Efficiently to Automate customer Service
The most important aspect of customer experience and automation is data. You are collecting customer data every second with each purchase, return, review, query, and complaint. But the more important thing is to manage this data to be able to use it for automating your customer service processes. For example, this data will be used for your targeted email campaigns, prioritizing customer support tickets, etc. Or segmenting your customer base based on their behavior on your site, order value, age, etc.
This is where a CRM system comes in handy. A CRM keeps your customer data organized in one place. This helps when your customer support agents need context while handling customer queries. Your agent can simply enter the phone number or any unique ID of a customer to view the customer profile status, order history, past tickets, etc. With all the information handy, the support experience for the customer will become more personalized.
Another cool thing to do here is to sync your email list with your CRM. Since your CRM has all the customer data, this will help you segment your email list effectively. Now let's say, a customer had added a product to a cart and then left your site without purchasing. This email ID will be added to your 'Abandoned Cart' email list automatically. This way, the customer gets targeted content sent to their email to remind them of the products in their cart and to push them to checkout with attractive discounts, etc.
Recommended CRM systems for your e-commerce business
Features:
Automatic data capture

Email marketing

Customer segmentation

In-depth reporting and analytics

Document storage
Features:
Market segmentation

Audience targeting

Behavioral analytics

Email marketing

Landing page creation

Reporting and analytics
Features:
Ability to add custom tags

Integrates with email marketing software like Mailchimp

Compatible with G-suite

Connects with helpdesk, accounting, and inventory management systems

Sales pipeline forecasting

Sales analytics
Features:
Centralized site management

Create promotions, launch new sites, etc. with Salesforce Commerce Cloud

Efficient contact management

Quote, contract, document, territory, partner, and channel management capabilities

Email marketing

Integrates with Slack, QuickBooks, DocuSign, Mailchimp, etc.
Looking for an Expert to Automate Customer Service & Experience?
Codaemon can help. We are a full-service e-commerce solution provider, which means we have the answers to all kinds of development and design queries you may have about your e-commerce website. That's not all. We also provide consultation on CX strategies, digital marketing, product launch, geographic location expansion, and so on. Our strategies are backed by decades of hands-on experience in the e-commerce industry. We always welcome exchange of e-commerce ideas and believe in making practical e-commerce solutions easily available to retailers like you. If you are struggling with organizing your customer base and the amount of manual work you are putting into your customer support methods, we can help. Give us a call at (443) 718-0003 or send an email to support@codaemon.com. Let's get started.
In case you have missed the first and second parts, you can read it here –