Quora Series | Part 1 | How to Choose the Best Product to Sell Online
A few months ago, we asked a question on Quora:
As an e-commerce business owner, what are your top 3 problem areas?
(Link to this Quora question is provided at the end of the blog)
We have received a few answers. Real problems. From real e-commerce business owners, e-commerce specialists, and those working closely in the e-commerce domain.
So, we have set out to help solve these problems one by one on the Codaemon blog.
Today, we are going to address one problem area shared by tech blogger, Amir Ahmed Khan. Here's what he had to say:
"Choosing The Best Product To Sell – Listing wrong items will fall flat as it will not appeal to your audience. Without sufficient market research finding a market large enough can be a hard nut to crack."

Coming up with the best product idea is the hardest part of starting an e-commerce business. Especially for first-time entrepreneurs. Because once you've picked the idea, you have to be 100% committed to it. There's no going back without losses.
In this step-by-step guide, we are going to show you how to choose the best product to sell online. This is not a regular guide. This is going to be an actionable handbook that will guide you through the process until you find the best product to sell online.
Basics You Need to Keep in Mind
What makes a product the best to sell online?
You do not have to put much effort and money to sell it online

You do not have to worry too much about sourcing and storing it
This is where you start:
1. Think of Product Value
The product should not have a set value (like electronics) because that would affect your margins. Things like keepsakes, accessories, informational products fall in the ambiguous price-tag category. The best product to sell online shouldn't be something whose value degrades with time (again, like electronics). Also, its demand shouldn't change with the seasons.
2. Increasing Order Value
Ideally, the best product to sell online shouldn't require you to put in a lot of effort to increase its order value. How?
The product has a lot of accessories (for upsells and cross-sells)

The product is customizable (for an added cost)

People usually buy more than one of it (like socks, hair ties, handkerchiefs, etc.)
3. Think of Shipping
The best product to sell online can be shipped at low costs or even for free. Why? Because high shipping cost is one of the top reasons behind cart abandonment. Digital products like courses, ebooks, videos require neither shipping nor stocking cost. If you choose to go with a product that requires low shipping costs, ensure that it is neither too large nor fragile.
4. Carrying Inventory
The best product to sell online will not take up too much space. Ideally, it should fit in a shoebox if you are going to carry inventory.
5. Product Price
All of these 4 points will make up the product price. The sweet spot for pricing is between $15 and $200 for customers to be interested in it.
Types of Products to Sell Online
There are two types of top-selling products online which are usually the most profitable.
1. Best Product to Sell Online – Niche Products
When you are starting an online e-commerce business, you can go either of two ways:
Choose a mass market that has a huge product offering, customer base, and naturally a lot of competition

Choose a niche market with specific offerings, target audience, and comparative advantage over competition
Examples of niches include eco-friendly products, handmade products (like soaps, candles, etc.), drinkware, novelty t-shirts, software, etc.
Why is 'niche' the best category of products to sell online?
Targeted Audience
Niche products cater to a specific, often passionate group of people. This can make marketing efforts more straightforward and cost-effective.
Less Competition
Niche markets are typically overlooked by big businesses due to the smaller customer base, leaving room for smaller businesses to thrive.
Customer Loyalty
Consumers within niche markets tend to be very loyal. Once they find a brand or product they love, they're likely to continue purchasing and even recommend it to others within their community.
Higher Profit Margins
Because niche products are often unique and not widely available, consumers are often willing to pay higher prices for them leading to higher profit margins.
Expertise and Passion
Selling in a niche market allows you to focus on an area you're truly passionate about and develop expertise. This can be very fulfilling and also establish you as an authority in your niche, creating trust with your customers.
That said, a niche category will also have less audience, so you will need to choose a niche with an adequate customer base.
2. Best Product to Sell Online – A Product With Expansion Opportunities
Okay, let's expand on the "less audience" part. The smaller your niche, the lesser knowledge people are going to have about it. You can turn that into a strength by becoming an authority in that niche. But you still need to have a contingency plan.
The solution is to choose a niche that has related products you can expand into later.
Let's take eco-friendly bath towels for example. It is a great product to start your business with. But what makes it one of the best products to sell online? It allows you to later include related products like bathrobes, mats, shower curtains, bath pillows, and more to expand your customer base. In other words, you have the entire bathroom linen category at your disposal.
3. Best Product to Sell Online – A Product That Solves an Immediate Problem
This is the holy grail of e-commerce. 
Take FurZapper for example. It is a fur remover that you can stick in the washer and dryer and it grabs the hair from the clothes while they are being washed. This company received funding in Shark Tank 2021 and has been making millions to the day. 
Why is it a top-selling product online? Because it solves an immediate problem. And it targets a niche audience of pet owners who have a problem with fur on their clothes but do not want to spend a lot of time and effort removing it.
Another product that ticks the immediate-problem-solving criteria is the WadFree Bed Sheet Detangler. It prevents sheet wad in the machine enabling sheets to be cleaned and dried properly. Again a Shark Tank favorite, this company has amassed hundreds and thousands of dollars in lifetime sales so far.
The idea is to find a product that is a cross between these three categories. Something niche with expansion opportunities and that solves an immediate problem. If you can strike the perfect balance, it's going to be the most profitable product to sell online (with the right marketing, of course).
Product Research
By now we know what type of products sell. Unless you are going to create something new, we need to do some research to find the most profitable products to sell online that meet these criteria.
Okay, let's do this right.
Some of the tools you need for product research:
AMAZON
HELIUM10
SEMRUSH
GOOGLE KEYWORD PLANNER
1. Finding the Best Product to Sell Online Using Amazon Data
Amazon is the largest e-commerce store in the world. And therefore, is also a treasure trove of free data that you can use to make a decision.
Now what is this data and how can you derive it?
First, do a product category search to find out a list of niche products that you think could be a good fit for your business. For example, if you type in "Home office" in search, it will show you a list of autocomplete suggestions. This is your first level of product idea generation. You can select one of these suggestions or keep what you have typed in. Once the results are loaded, on the right-hand side, select "Bestsellers". This will give you an idea about the top-selling products on Amazon.
You can also find product ideas under the "Explore Related Products" section.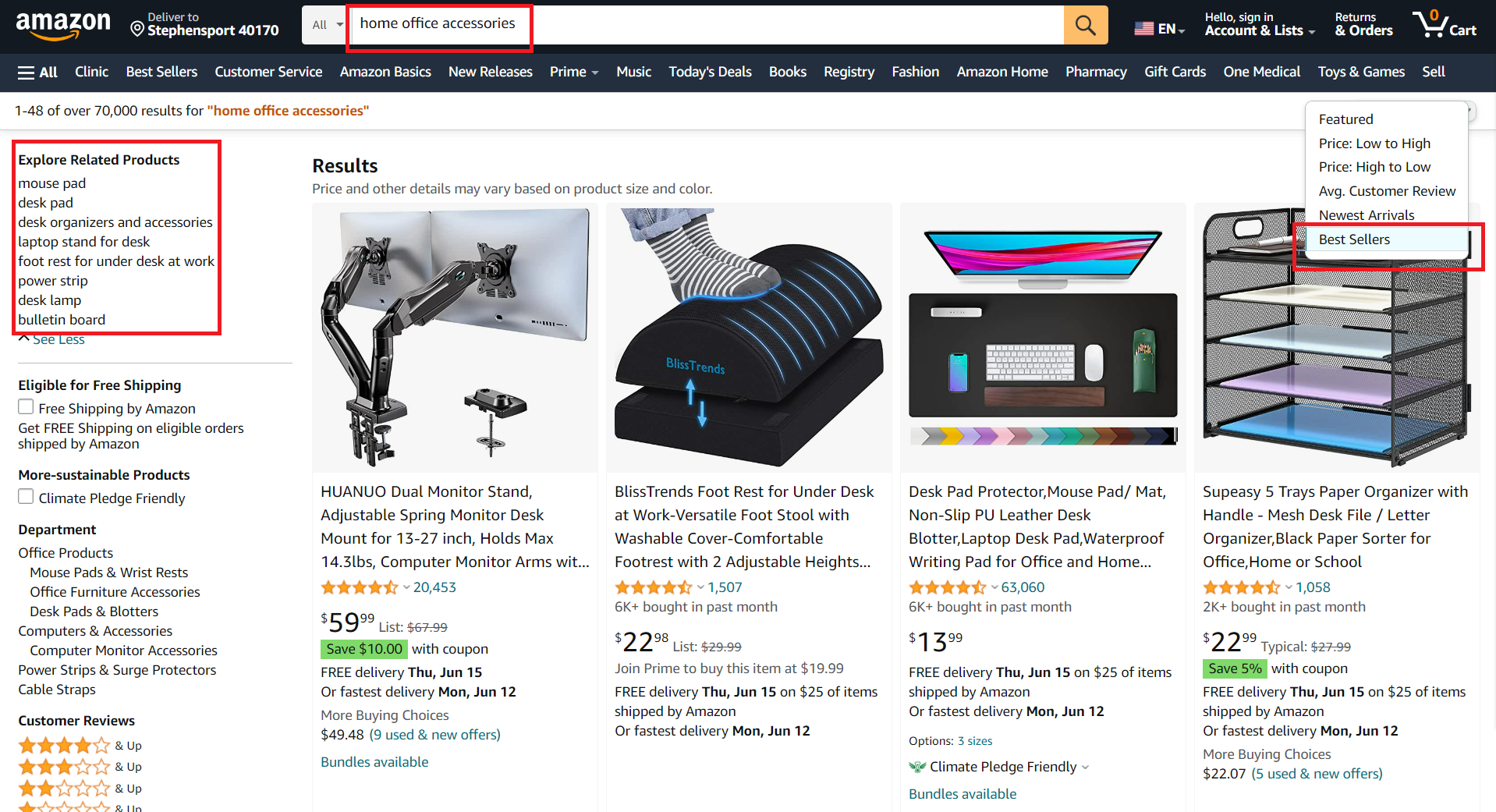 The next thing you will do is find the Best Sellers Rank.
Each product sold on Amazon is given a Best Sellers Rank or BSR. This number indicates how the product is selling in comparison to other products in the same category. The factors that go into calculating it include recent and all-time sales, competitive products, etc.
But how will you find the BSR?
From the above image, let's pick the second product for example:
"BlissTrends Foot Rest for Under Desk at Work-Versatile Foot Stool with Washable Cover-Comfortable Footrest with 2 Adjustable Heights"
BSR: 240 in Office Products; 1 in Office Footrests
Two things to know from this data:
A product can have different BSRs in different categories

The lower the BSR, the higher its sales
Okay, but how do you infer the sales data from this number?
Here's a FREE ESTIMATOR you can use. Now let's put in the numbers and see what we get.
For a BSR of 240, the estimated number of sales for this product is over 9500 in a month. That's a pretty good amount and something you should aim for.
Now how are we going to use this data to find the best product to sell online?
The idea is to find products with low BSRs that you could choose from that tick both the niche and immediate-problem-solver criteria. But you cannot be sitting around all day (or days) trying to collate sales data for all these products. It's tedious work. Thankfully, you've got some free tools to help with the process.
Automating Data Collection to Find the Best Product to Sell Online
Helium10 is a fantastic tool that does this work for you for free. Helium10's Black Box is the best fit for filtering products within a specific BSR range. Let's try that out.
First, sign up for free from this link.
Now follow the video below to use it for making a list of products that could work. Here I have used the "Office Products" category and a BSR of 1-500 which translates into an estimated monthly sales of 62K – 6.2K respectively.
You can do more with this tool. You can filter by review, price, monthly revenue, etc. and also exclude certain parameters like brand and seller.
Use this list to narrow down the products that you would like to get into.
2. Finding the Best Product to Sell Online Using GKP & SEMRush
Okay, so now you have a list of products that you like. Time to find what people like as well. Because if people aren't looking for the product you want to sell, you won't make much headway in selling it. And it wouldn't make it the best product to sell online.
Go to Google Keyword Planner (another smashing free tool).
Type out the names of the products you have selected. For example, let's find out what "foot rest" yields.
There are between 10K and 100K searches for this term monthly in the United States. Along with that, you get information on the competition and bid cost (which you will need for your PPC campaigns). You can view search trends for the keyword in different locations as well to find the best product to sell online.
Now pull up the SEMRush tool. This is another free SEO tool that will come in handy for you.
In the search box, type in the keyword. Here's what it brings up for "foot rest".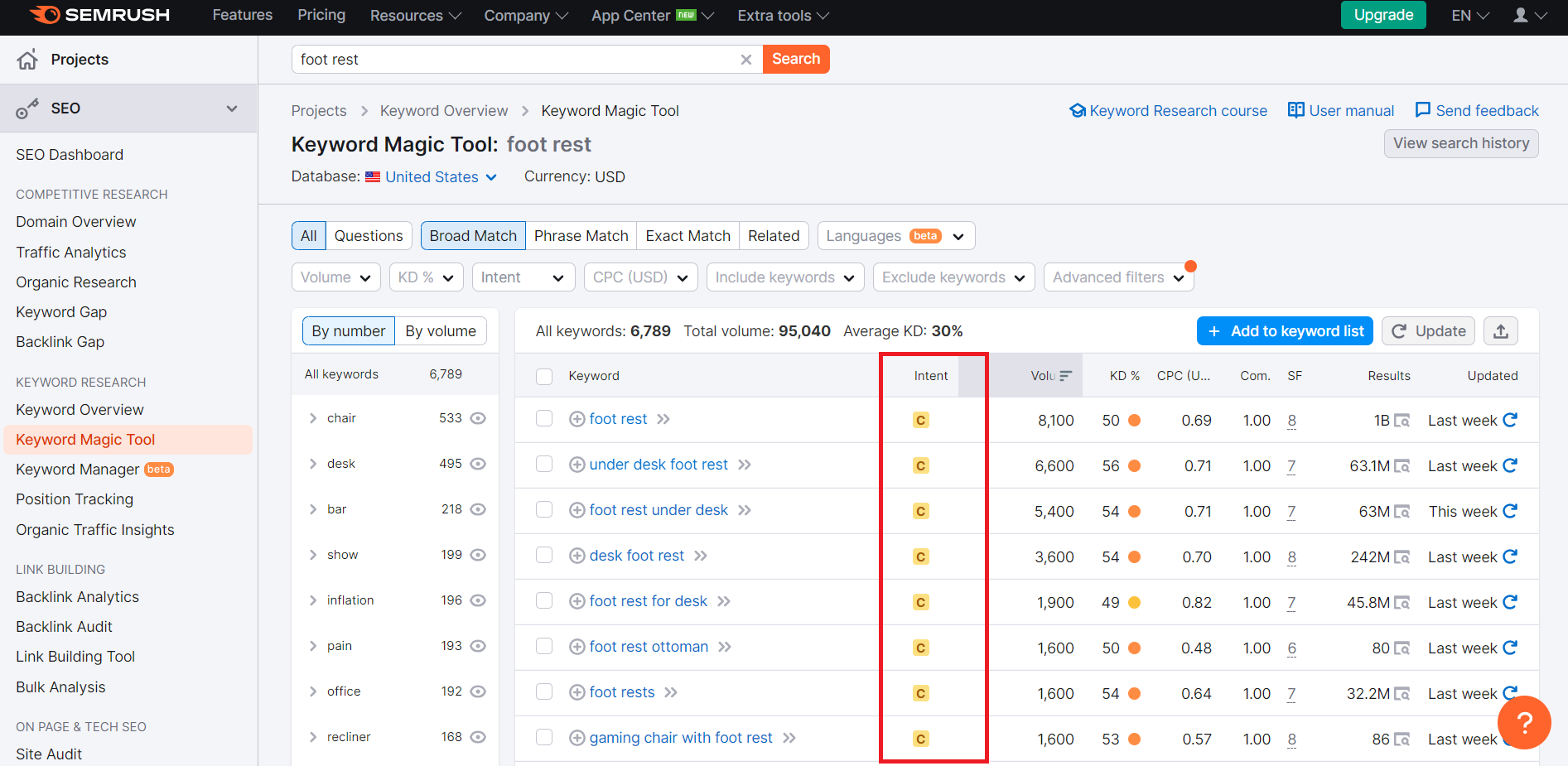 Now there might be some differences in the results between SEMRush and GKP. But even with that, the data would be useful.
The additional element you get in SEMRush is the search intent. 'C' stands for Commercial (user wants to investigate brands), 'I' for Informational (user is looking for an answer to a question), and 'T' for Transactional (user is on the verge of conversion). You want to aim for Commercial keywords.
3. Bonus Tool to Find the Best Product to Sell Online
Google Trends. 
Let's type in "foot rest" and see what it brings up.
Google Trends tells you how often "foot rest" has been searched for in the past year, in over the past 5 years, and more. And as you can see, it has gained in popularity over the last 5 years and has an upward trend.
You can also see related search queries to get more product ideas that your target audience is searching for.
Sourcing the Best Product to Sell Online
By now you have an idea of what kinds of products you would like to sell. The next thing is looking for suppliers. 
This is where you need to know a few important things:
Sourcing products from manufacturers in your home country is easy because shipping becomes less complicated and also you are familiar with things in your own country. However, depending on which country you live in, it could also be costly. For example, manufacturing costs in the US are quite high. 
This news report by the US News lists the top 85 countries with the cheapest manufacturing cost. India ranks the highest.
When shipping prices are cheap, your profit margins are going to soar. But the shipping process is going to be complicated. This is where you need to weigh the figures and identify the best route.
If you want to avoid the hassle of carrying inventory altogether, dropshipping is the way to go. This reduces your responsibilities to only putting up a website to display the products, marketing it, taking orders, and handling customer queries. And the vendor handles warehousing, shipping, and delivery. 
While it may sound rewarding, the profit margins are low and finding a reliable vendor for dropshipping is difficult. The ones you find on Google search are not always trustworthy. So you need to do a thorough background check before signing up with any of them. Some of the websites where you can go to search for these suppliers are (you still can't skip the background check):
Regardless of whether you want to do dropshipping or carry inventory, you need a reliable supplier (or suppliers). One of the best places to find them is at a tradeshow. You can meet them, get samples of their products, and build networks. 
In fact, you can even get product ideas from these tradeshows. The best product to sell online could be right at the next kiosk. Or the next. And the great thing about that is, you have everything – from samples to suppliers – in one place to be able to make a decision.
We have a blog on How to Automate Vendor/Supplier Onboarding. You will need this once you have the product, supplier, and platform figured out.
10 Product Niches to Look Into in 2023 to Find the Best Product to Sell Online
Home office
Eco-friendly products
Plants
Pre-owned products
Online courses
Home workout, wellness
Travel
Men's beauty products
Gaming
Pet products
Already Found the Best Product to Sell Online? Not Sure How to Proceed?
Let us help you out with a plan of action. Our e-commerce expertise spans a multitude of industries and several business sizes. If you have the product idea, we know how to take it forward and help you build a successful business based on your vision and your budget.
We can guide you with platform choice, platform customizations to suit your specific needs, pre-launch market research, SEO, content writing, and more. Get in touch with us to unlock the full potential of your business idea.
Reach out to us at (888) 811-3073 or support@codaemon.com.
Link to the Quora question below:
As an e-commerce business owner, what are your top 3 problem areas?