Affiliate Marketing for Advertisers – A 10-Minute Guide
For an online merchant who is starting out, getting people to your business can be tough. You need to find out every possible way that there is to get exposure for your products and close a sale. But not all methods are going to work. Hence it becomes difficult for a newbie with low capital to keep investing money in a channel that doesn't generate a return. So, what's the solution to this? Affiliate marketing.
What is Affiliate Marketing?
The basic premise of affiliate marketing is advertising your products on another person's website. This person is known as the affiliate. You return the favor by paying a commission when a goal is achieved. This goal can be one of two things. These include getting your the affiliate's site audience to:
Click on the ad and reach your site
Make a purchase from your site
Why is this so cool? It's because this method guarantees you 100% return on your investment. How? You only pay the affiliate once your goal is achieved.
Affiliate marketing has grown enormously over the years. In fact, 81% of brands use the power of affiliate marketing! Sounds convincing? Let's get you started.
How to Get Started with Affiliate Marketing?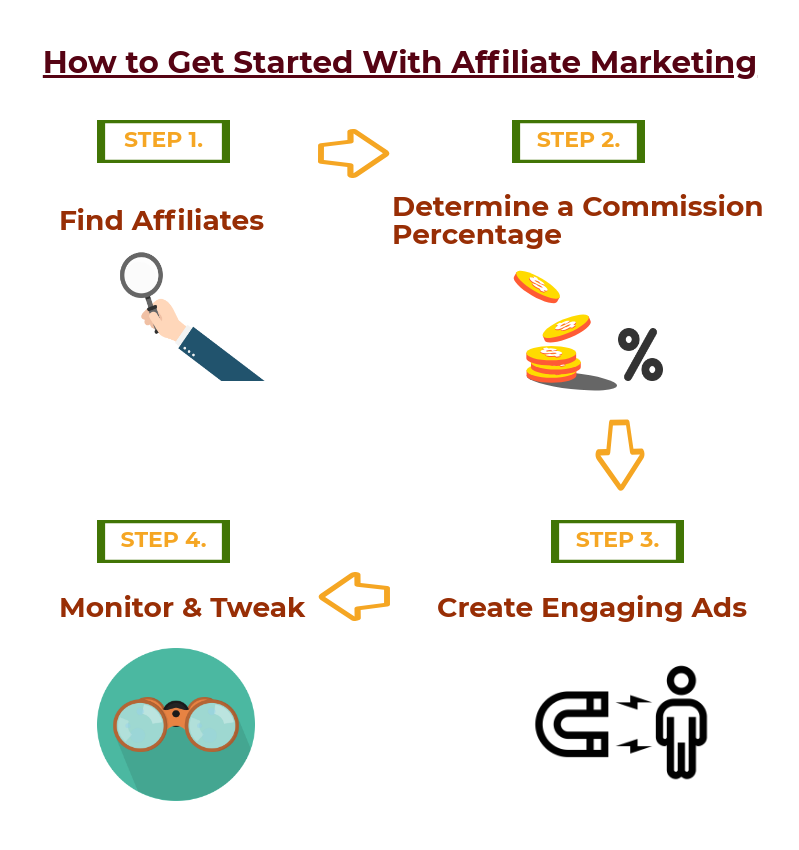 Step 1. Find Affiliates
There are a few effective ways to find affiliates:
Join an Affiliate Network
An affiliate network works as an intermediary between affiliates and advertisers. As an advertiser, you need to sign up to these networks. Why are they great places to start? They are already established, which means you do not have to build relationships with affiliates from scratch. Hence, it saves you time and it's very convenient. You also need to know that affiliate networks generally charge a small fee to get started.
Let's take a look at some of the best-performing networks.
Shareasale is pretty much easy-to-use and provides a bulk of features. It provides real-time tracking of sales. This means you will get to know when your ad is being clicked, a sale is made and the commission is generated. It provides excellent support as well. I went the extra mile and started to ask around about Shareasale on forums and I have mostly received positive reviews. Here's one from Reddit.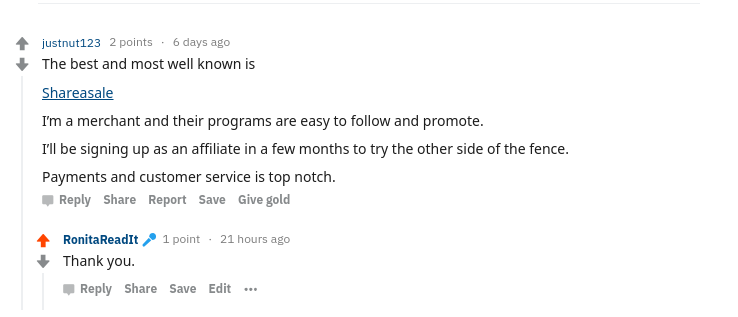 Price: $650 = $550 network access fee (one-time) + $100 deposit fee. It also charges 20% fee on every transaction.
CJ Affiliate has been around for quite some time now and is considered one of the best affiliate networks out there. It provides a free consultation to understand the needs of your e-commerce business followed by a suitable plan and quote for you. Its global network, wide range of tools and mobile-friendliness makes it an effective platform for advertisers.
Price: On request
Rakuten (formerly known as Buy.com) is a Japanese shopping portal that has grown into one of the top 3 e-commerce companies in the world. In 2005, it acquired LinkShare becoming one of the largest affiliate marketing networks worldwide. Rakuten Linkshare was then re-branded to Rakuten Affiliate Network in 2014. Brands that have signed up with Rakuten include Macy's, Starbucks, Walmart etc. Features include cross-device tracking, single view of performance across all digital marketing channels, ability to track your digital marketing efforts, excellent customer support etc.
Price – On request
Find Bloggers & Influencers in Your Niche
Various high-authority blogs accept paid advertisements. Since they already rank high in search results, it's highly likely that you will get a flood of leads to your site. We recommend you to choose the blogs in your niche.
You can also Email authors of such blogs or influencers to write a review of any of your products in their blogs and add a link. How will this work? Firstly, you need to contact the blogger (preferably via Email) telling them what you do and requesting them to sample your product/service in exchange for a freebie or a commission.
Here are two Email samples you can use:
For a product:
Hi [Name],
I'm [Name] from [Company]. I really enjoy your blog and I'm impressed with how well you've done with it.
I'm reaching out to you because I have a product that I think your audience will appreciate. It's a [Describe the product]. Would you be willing to test and review it?
I can provide a free sample for you to review and three extra ones that you can give away to your audience.
Please let me know if you are interested.
Thanks
For a service:
Hi [Name],
I'm [Name] from [Company].
We will be launching a new service called [Name] which would enable bloggers like you to [Benefit]. I noticed you cover new products and services on your blog. So, I wanted to see if you'd be interested in joining our beta team.
As a beta tester, you'll get an early peek at the new service and you can share your feedback with the team. You can also review the product on your blog. We'll offer you free access to the service for a year.
Send me a reply if you are interested and I'll get you a setup.
Thanks
Create an Affiliate Program
For many business owner who are starting up, the cost of an affiliate network may be a bit steep. In that case, you can set up your own affiliate program to test out the water.
First, you need to make a decision about the platform you want to use for your affiliate program. If you have a WordPress site, this article explains how to create a referral program using AffiliateWP.
Alternatively, you can also use free Shopify apps to create your affiliate program. Some paid apps come with a long trial period which you can utilize. Try these.
It's always recommended to choose an affiliate network instead of creating an affiliate program of your own because you will have to handle everything yourself if you choose the latter. If you still want to take this route, keep the following points in mind because advertisers tend to go wrong in these areas:
Install a fraud detection tool to keep suspicious activities in check
Ensure that your hosting server is well-optimized for tracking the clicks accurately
Have an automatic payout system in place. This will ensure that you pay your affiliates timely and also do not pay anyone twice
Since you will be on your own with an affiliate program, it's important to get the word out.Add a link to your affiliate program on your website. Place the link in the footer since affiliates tend to look there first. Announce your affiliate program in a blog, social media or even through newsletters. Also, affiliate forums are good places to make people aware of it.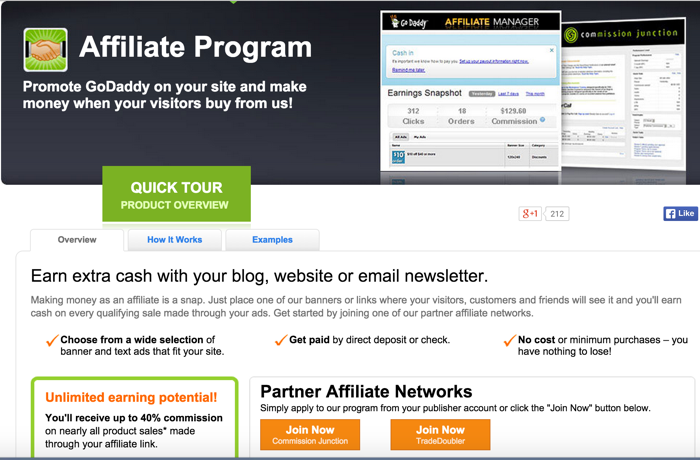 (Image Source: https://www.shoutmeloud.com/how-to-signup-for-godaddy-affiliate-program.html)
Reach Out to Popular E-commerce Websites
They say, keep your friends close and your enemies closer. Think. Who can be a better affiliate than your competition? Or, even better, a bigger e-commerce site in your niche?
You can do one of two things here (or, maybe even both):
Look for e-commerce companies in your niche that are slightly more profitable than you
Look for e-commerce companies that sell products which complement yours. For example, if you sell beachwear, you can partner with someone who sells sunscreens and other products for beach use.
Write them an Email seeking partnership.
Hi [Name],
I'm a fan of your store I love your products, especially [Product Name]. [Tell him/her why].
I have an online store called [Store Name] where I sell [Product Categories] which are [similar to/complements] your niche. Since we have a similar target audience, I was thinking of a mutually beneficial affiliate partnership. I offer generous commissions.
Let me know if you are interested and we can start a discussion regarding this.
Thanks
You can also turn to your competitors' affiliates for partnership. How will you find such affiliates? Run a backlink check of your competitors' websites. The Backlink Checker of SmallSeoTools is quite useful. Just type in your competitors' website to get the list of backlinks.
Step 2. Decide on the Commission Percentage
Determine Your Gross Profit Margin
Your gross profit margin is the total sales revenue that you retain after incurring the direct cost of production of the items you sell. In other words, it's the money you are making on each sale when you have factored in your product cost.
Shopify has an excellent tool that you can use to calculate your gross profit margin. Try it here.
Factor in the following:
Your paycheck, operational costs, taxes etc.
Discounts offered, incentives/bonus to be paid to affiliates for generating a certain number of sales in a certain period of time
You will need to leave room for these costs in the commission you pay. Having said that, being a little generous with your commissions can help while starting out. Why? You may not get bulk orders from your affiliate links in the beginning since people don't know about you yet. As a result, affiliates may not see a lot of earning potential in your ads unless your commission is good. Gradually, as the traffic increases, you can start to reduce your commission rates while partnering with other affiliates.
" 16% of all orders are generated through affiliate marketing. "
Compare Commission Rates of Your Competitors
When you are confused about something in your business, there is no better place to turn to other than your competitors. Why? Two reasons:
You will get an idea about what's working for them. This means you will no longer have to fly blind.
Your affiliates are also going to compare your commission rates with your competitors before choosing an affiliate program
How will you find out what your competitors are doing? Try the following combinations on Google search"
'Your competitor's website name' + "affiliate program"
'Keyword for your business' + "affiliate program
~'Keyword for your business' + "affiliate program"
Go through their affiliate programs to find out what they are offering and how they have structured their affiliate programs.
Other Factors to Consider
Following are a few more factors that you need to consider while deciding on a commission rate for your affiliates:
1. Look at the price range of your products while offering a commission. If your product is on the high end of the price scale, your affiliates wouldn't mind a low commission rate.
2. Your affiliates are going to put in more effort for conversion if your commission rate is high. However, if your website already converts well, a low commission rate wouldn't be a problem.
3. Sometimes, commission rates are determined by the industry type. For example, the commission rate for the travel industry is a certain percentage of the order sent by the affiliate link. But other industries pay a flat fee to the afiliates regardless of the order.
4. Commission rates are also determined by the product category.
Commission rates go from as low as 1% to as high as 90%. These factors will help you determine the average rate to choose for your products.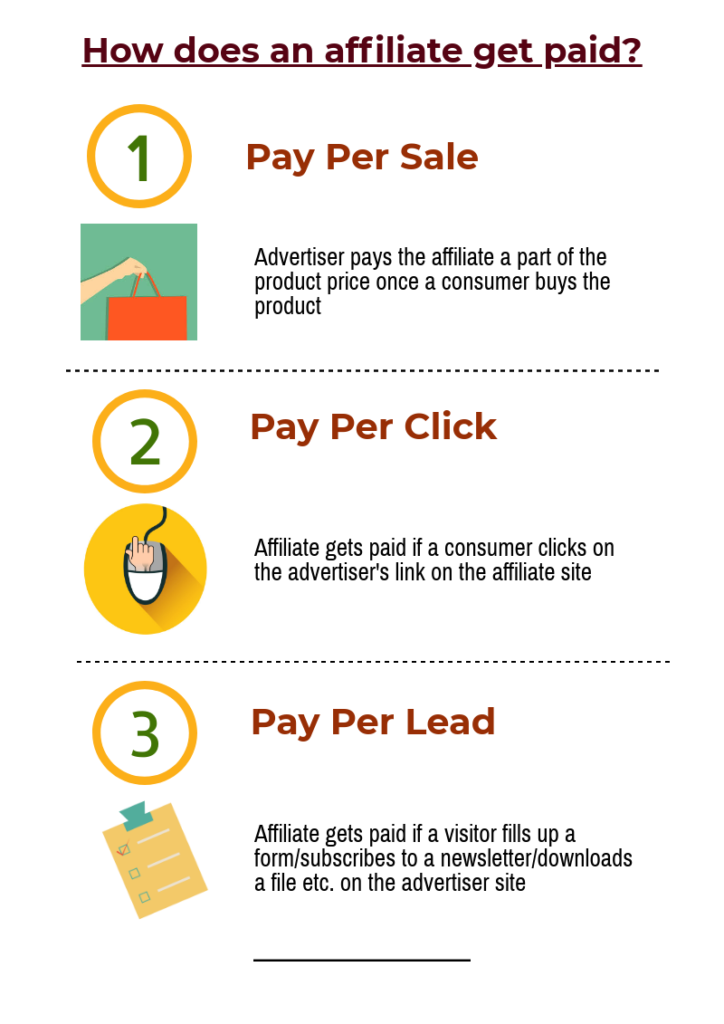 Step 3. Create Engaging Ads
Even with all the startegies in place, what matters most is the value you provide to your customers – in this case, your ad viewers. Think. What's the primary motive of your ad? To direct viewers to your website. Would they stay, let alone convert, if the landing page isn't relevant to the ad they saw? No.
So, your ad creative needs to portray exactly what they expect when they click though to your ad's landing page. Be clear what you are promoting. If it comes with an offer, it should be displayed in bold and large letters.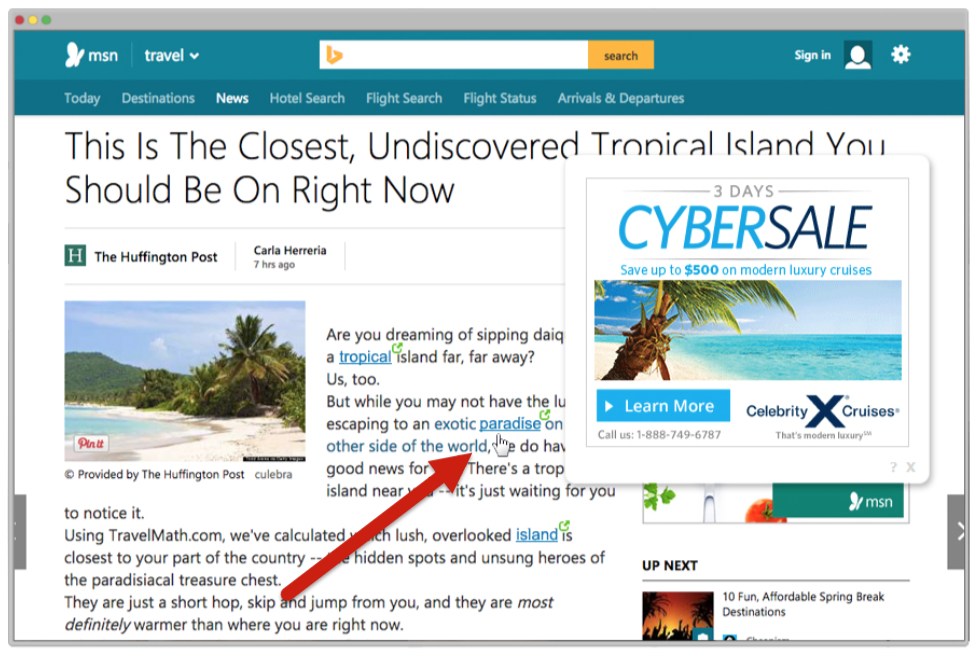 (Image Source: https://blog.peerfly.com/2015/10/28/affiliate-marketing-terms-2015/300×250-intext-ad-example/)
A crisp copy and an enticing photograph go a long way in getting your ads clicked. Don't always restrict yourself to static ads, use video as well.
The ad's landing page should have clear product photos, correct details, price and reviews. There shouldn't be any surprises waiting for your viewers (unless it's a discount).
Step 4. Monitor and Tweak
It's important to keep track of your affiliate programs and how they are faring. Put a new strategy together every month. Keep running new campaigns and trying out new types of ads to see what works. Don't just restrict yourself to static ads, use video as well. Ensure that your products are displayed properly and that the ads are interesting enough to generate clicks.
Always review affiliates before approving. This will help you avoid fraud.
Ensure that your affiliates are motivated to promote you. For this, you can add incentives which your affiliates can get paid if tehy generate a certain number of sales/clicks for your websites.
Always communicate with your affiliates. Try to get their feedback on what they think are working.
Pay the commissions on time to increase your credibility
Avoid recycling old creatives. Create fresh ones to keep the ads interesting.
Keep recruiting new affiliates so that you can replace the ones that aren't generating much sales for your site.
Conclusion
Affiliate marketing has huge potential. It may take time but it's effective. However, don't stop at affiliate marketing. You should also implement Facebook ads, PPC and most importantly, organic optimization to keep getting traffic to your store. Want to learn more about how to implement Facebook ads to increase conversions?
Triple Your Traffic Using Facebook Ads
While starting out, you need to keep an eye out for affiliate fraud. Ensure that you have a solid Terms of Service written down and agreed to before starting a partnership. Want to learn more about what kind of an affiliate program would suit you? Send us an Email with your queries and we can get on a 30-minute 1:1 discussion for free.