Tricks to Get the Most Out of Your Local Business Listing
You've probably heard of local business listing. It's exactly what you think it is. Local listings are online directories that contain the details of your brick and mortar business. These details include name, address, contact information, working hours etc.
Why is this important? To understand this, let's take up an activity.
Type "pizza" in your Google search box. Here's what you are going to see: an ad or two at the top and then a map showing 3 nearby pizza places that are most relevant to your search query and their addresses beneath the map. This is known as the Google Local Pack. Before you can scroll down to the further results, you will get this immense urge to order a pizza from any of the top 3 eateries shown on the map. And that's probably what you'll do.
Now think: if you were a pizza eatery owner, would you like it if your shop wasn't the one receiving the above order? No. That's why you need local business listing.
Talk to Our Local SEO Expert for Free
Why Do Local Listings Matter?
Easy answer: Local business listings help searchers find your business when they need it.
Today, everybody turns to Google if they have a query. 46% of these searches are local. This means, if your establishment isn't listed in the business directories, you are missing out on a hefty traffic.
Local listing is a crucial part of local SEO. Local SEO is a little differently structured than traditional SEO. While traditional SEO employs crawling bots and site indexing, local SEO is primarily based on location. This means, it pulls search results based on location instead of traditional methods.
Local listing also gives your business a bunch of high-authority backlinks from popular business directories. For example,
Facebook and Apple Maps have a Domain Authority (DA) of 100
LinkedIn Company Directory has a DA of 98
Bing and Yelp have DA of 94
Yellow Pages has a DA of 91
To get a better idea of which business directory between Facebook and LinkedIn people prefer, I started a poll on Facebook. Turns out, both received equal accolades.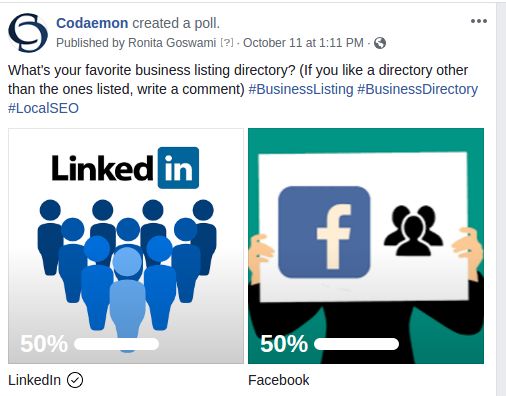 Enlisting your business in such high-authority websites can do wonders for your site's SEO.
But the question is, how to go about it? Let's take a look.
Which Directories Should You Enlist Your Business in?
There are quite a few. It's wise to enlist in places where your target customers are likely to search for businesses like yours. Some of the common business directories include:
Google My Business
Facebook
LinkedIn
Yellow pages
Apple Maps
Angies List
Yahoo! Local
Hubspot has recently created a list of 57 best business directories based on their Domain Authority. Check out the list here.
There are numerous other citation directories apart from these. It's wise to get your business listed in as many of these as possible. But how do you find them? Manual listing is time-consuming and honestly, boring. Good news is, there are tools to help you with that.
Moz Local and Yext are great tools to get started. These are data management tools that help you find business citations opportunities and as well as update and replace incorrect information about your business in directories that you were not aware of. I also turned to my favorite forum, Reddit to find some other tools for you. Turns out, Whitespark has worked out for some people a lot. You can give it a try too.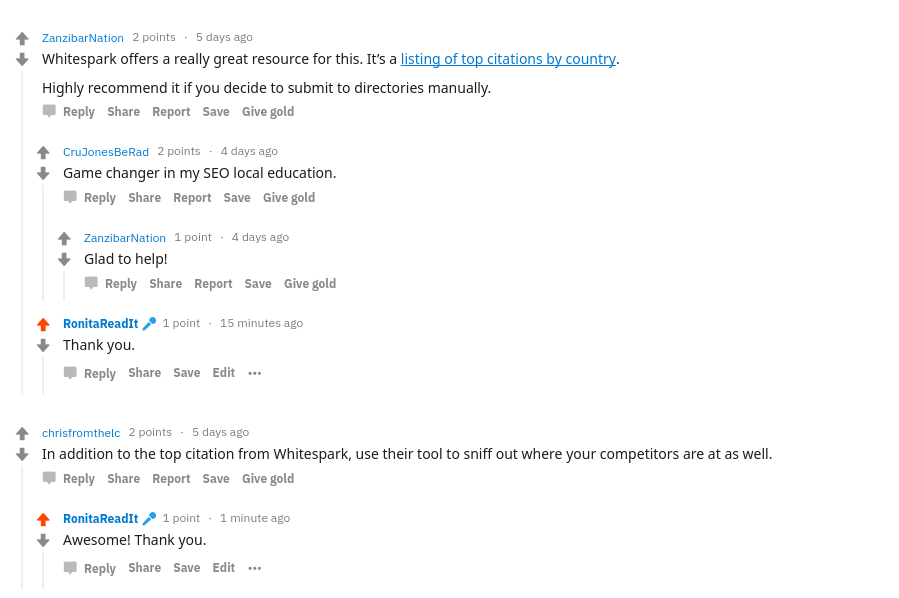 What Should You Include in Your Local Business Listing?
First things first, you need a list of the fields to include in your business listing and fill them up. You will need this list every time you enlist your business in a business directory. So, let's get that out of the way. The following fields are common everywhere:
Business name
Physical address of your business
Contact number
Alternate phone number
Website URL
Categories that define your business well
Business description
Tagline (if any)
Social media profiles which include Facebook, Twitter, Pinterest, Instagram, Google+ etc.
Images of your office
Fax number (if any)
Business licenses/certifications
Accepted methods of payment
Attributes that further define your business like "24-hour availability", "Pet-friendly" etc.
The data you fill in these fields should be accurate and should define your business properly. Remember, this data will be used by visitors to decide whether to do business with you.
How to Enlist Your Business in Google My Business?
Google My Business is free and all you need to do is claim your business by filling the above mentioned information. This would help your business show up in Local Pack, Google Maps, Local Finder, organic search results and other Google properties.
Visit Google My Business. Click on "Start Now" to fill out all the information mentioned above. Once you complete this, your customers will be able to find valuable information about your business.
Even before you start entering the information, you might find that Google already knows about your business. Don't be surprised. It's quite normal. Google pulls information from multiple online sources and user-generated content. These include online data aggregators like Acxiom, Infogroup etc., third-party reviews, business directories etc.
This teaches us two very important things:
You need to cover as many citation sources as possible
The information across all these sources should be the same to reduce misleading data
This will help you increase the credibility of your business information.
What's Next?
Most businesses claim their Google My Business listing, correct the data, add complete business details and then forget about it. That's where they go wrong. google is constantly in search of new information about your business. So, it will keep drawing data from all sources. Google favors user-generated content about your business than your own.
There's a "Suggest an Edit" option that Google provides to anybody for every business. Anybody can click on it and start adding data about your company. This means if you don't tell Google who you are, someone else will.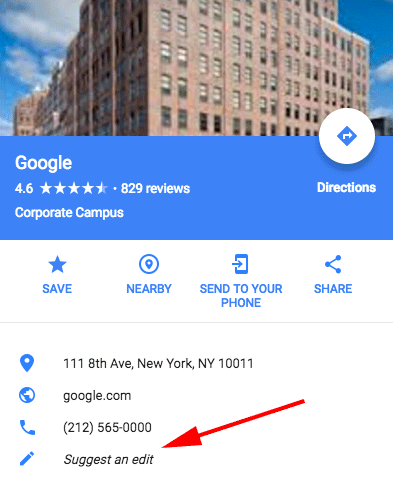 (Image Source: https://www.seroundtable.com/google-maps-suggest-an-edit-fast-24144.html)
If someone clicks on the "Suggest an Edit" button, they can change your business details. And you wouldn't even have a clue about it unless you keep an eye out. So, it's important to keep checking the updates from time to time by logging into your Google My Business account. You can always rectify an incorrect update from your account. If you face a problem doing that, turn to Google My Business Forum.
Google also places a "Know this place?" link right beneath your business details in the Knowledge Panel. Users can simply click on this to answer questions about your business. This has not turned out to be a good experience for many business owners since people with malicious intent try to malign their reputation by incorrectly answering these queries. You need to keep an eye out for this by frequently logging into your GMB account and reviewing this information.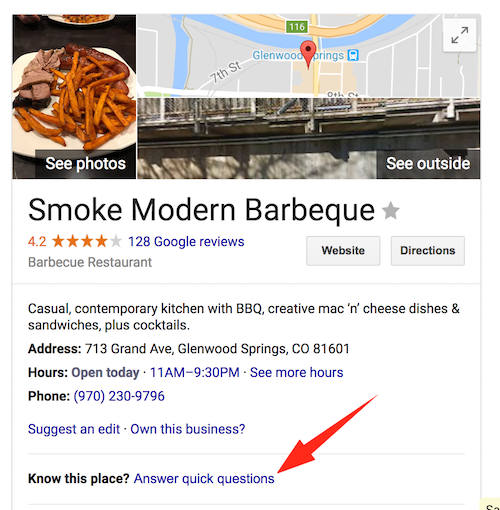 (Image Source: https://localu.org/2017/06/27/highlight-icons-for-restaurants-bars-in-knowledge-panels/)
How to Get More Out of Your Google My Business Listing?
Due to Google's omnipresence, it's important to lay stress on getting your business details right on GMB. The bonus is, it strengthens your local SEO. There are multiple ways to optimize your Google My Business listing. Let's take a look.
1. Add Posts
Google loves activities which is why the GMB account has launched a "Posts" option. This works just like your social media posts. These posts will show up in the Knowledge Panel under your business description.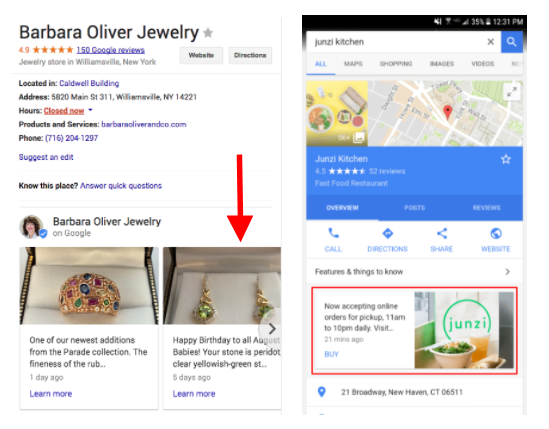 (Image Source: https://www.lunametrics.com/blog/2017/09/07/guide-google-posts-google-business/)
You can log in to your GMB account and add posts. A post can be an event at your office, a product that you want to showcase, a sale, the latest blog post etc.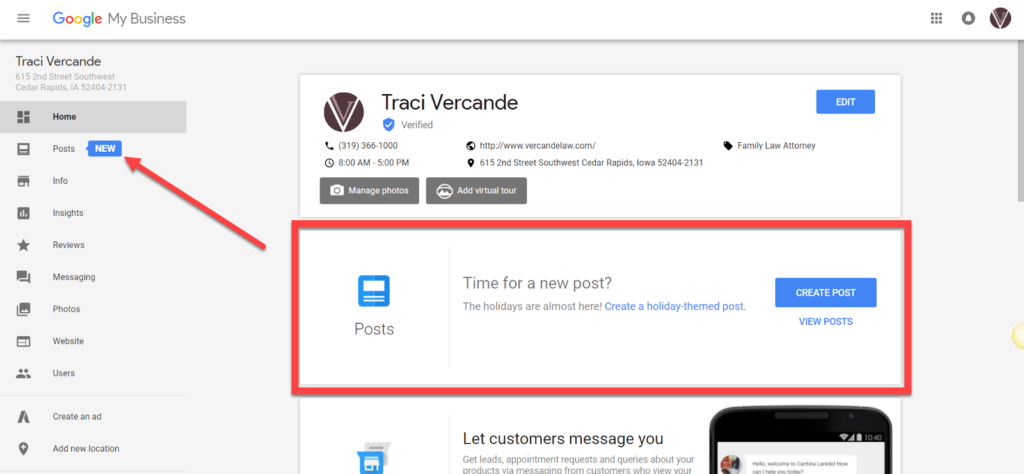 (Image Source: https://moz.com/blog/how-to-optimize-your-google-my-business-listing)
Quick Tip. Did you know that Google now supports emoji search? So, if a person searches with "[burger emoji] + nearby", eateries that have used burger emojis in their Posts will show up in the results. If you own a burger joint, add a burger emoji to your GMB posts to increase your chances of featuring in the pack for people searching with the emoji. One emoji is enough, by the way, to keep looking professional.
Posts stay live for 7 days. Keep adding fresh posts to stay on top.
2. Messages
This gives the option for users to send messages directly to your business from the Knowledge Panel. This is especially useful since most of the searches are carried out on mobile. Adding a phone number will help people reach out to you quickly.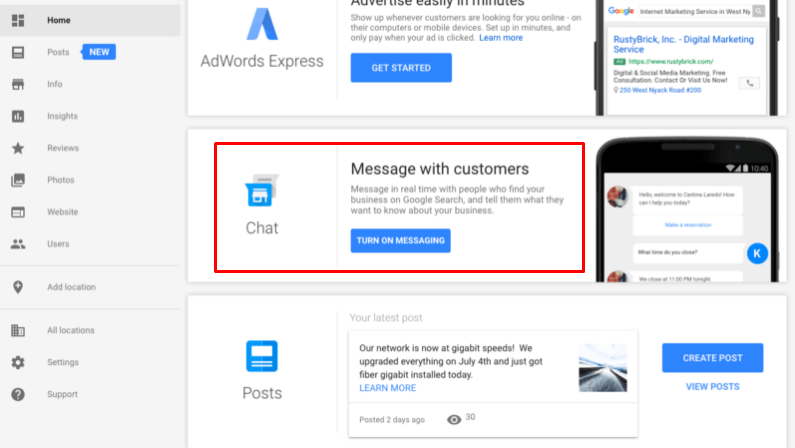 (Image Source: https://www.seoclerk.com/faq/23504/Google-My-Business-Messages-Update)
However, if you are unsure of users viewing your personal phone number, you can use Allo. It's a smart messaging app by Google which is available on the Android Play Store and the iOS App Store for free
How would you use it?
You need to sign up for messaging in your GMB account using a phone number. Now download Allo and register with the same number. Don't worry, users will not be able to view your phone number while messaging you. More details here.
3. Online Booking
Last year Google rolled out the online booking button by partnering with some scheduling providers. If you already have an account with such a provider, the online booking button will automatically show up in the Knowledge Panel.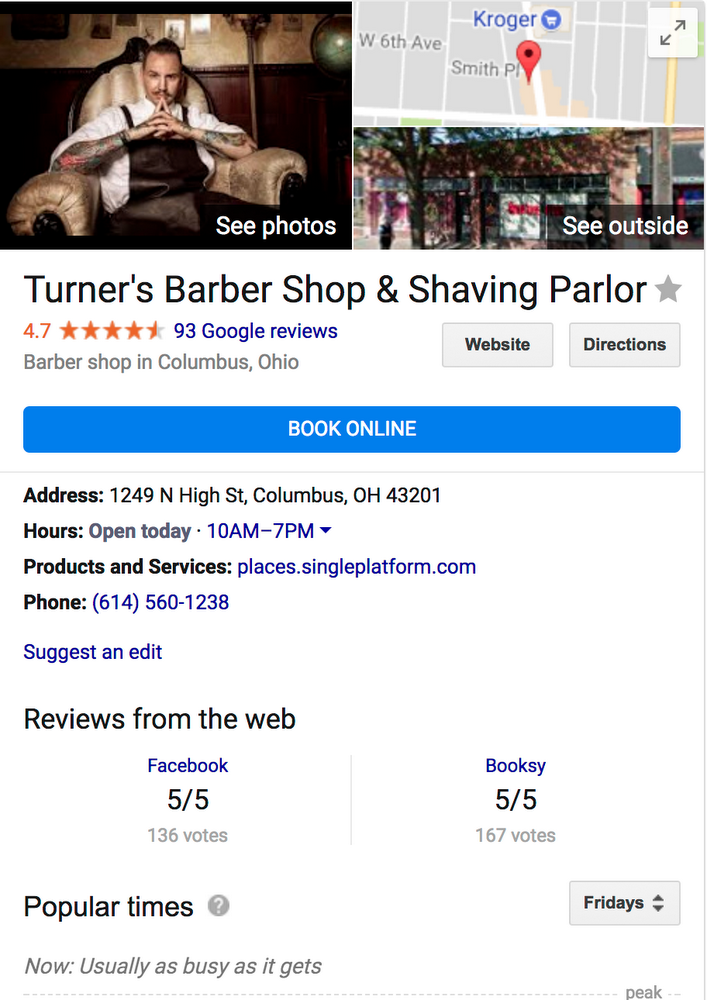 (Image Source: https://www.blog.google/outreach-initiatives/small-business/easy-booking-button-businesses-google/)
You can also set it up yourself by logging in to your Google My Business account. You will find a button on the main screen asking you to sign up for the service. It's pretty much straightforward from there. All you need to do is select a booking provider and that's it. The online booking button will become live within a few days. Don't forget to track the booking by logging in to your account regularly.
4. Reviews
Online reviews provide excellent brownie points to a business. According to research:
" 97% of customers read online reviews of local businesses. "
The good news is, Google encourages business owners to ask for reviews from their clients. However, you need to read Google's guidelines for reviews before you start asking around for some.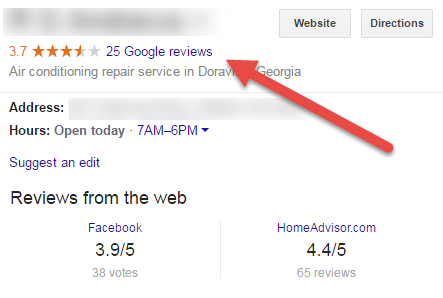 (Image Source: https://www.bluecorona.com/blog/google-my-business-reviews-section/)
These optimization tricks will keep you on your toes getting your business to rank locally. You need to remember that Google constantly rolls out new updates frequently. So, keep an eye out for these and make them work to your advantage as much as you can. If you have coders on your team, you can do a lot more with GMB. If you don't, you can always reach out to us for advanced local SEO tactics.
Claim Your 30-Minute Free Consultation
Conclusion
With business directories, it's important to constantly track the outcomes. Most directories come with detailed performance reports that you can use to identify which optimization technique works best and which doesn't. Implemented right, these directories have immense potential for business benefit.