How to Use Facebook Ads to Boost Your E-commerce Sales
Have an e-commerce store? Need a bigger target audience to connect to? And a boost in product sales? Facebook ads can do the trick.
Why? Facebook has 2 billion monthly active users. This social media platform has driven 18% of web traffic so far thus ranking second in driving traffic. The first is Google, of course.
Now what has that got to do with your store's conversion? Everything. Gaining quality audience is the first step to closing a sale.
The purpose of this post is to help you learn how to advertise on Facebook in a way that improves your e-commerce store conversions.
By the end of this post, you will have an actionable strategy ready for three things:
Improving product exposure
Gaining a quality audience (that converts)
Getting a flood of sales from new leads
Let's get started.
Find Your Target Audience
The first question to ask yourself before creating a Facebook ad is: Who do I want to target?
Directing quality audience to your site makes a lot of difference. Because they end up converting into customers.
What does quality audience mean?
Not all Facebook users are going to be interested in your ad. Believe me, some are going to be really annoyed with it when it comes up in their news feed. So, you only want those people to see the ads who have a high chance of being interested enough in your products to visit your site and make a purchase. These people are called quality audience.
How will you determine quality audience for your business?
The first step is to look at the products you sell. If you are a B2B business selling auto parts to local stores, your ideal audience would be geography-based and those having an interest in the products. If you are a B2C business selling home-made fitness products, your ideal audience would be of all ages with an interest in fitness and cardio.
Here's another way to determine your quality audience: Take a long hard look at your business's past sales record. Where are the sales originating from? What's the average age of your Facebook page audience? Are they male or female? What do they usually search for? The products you want to promote through the Facebook ads will also determine your target audience. For example, if you are promoting women's running shoes, you are likely to target women between 18 and 40 with an interest in fitness.
You will need this information to specify the following in your ads:
Location
Demographics
Interests
Behavior
Facebook lets you get granular with your target audience's interests. Here's how you are going to leverage that:
In the Facebook Ads Manager, browse the suggestions provided in the Detailed Targeting section to select the ones matching your target audience data. For example, let's say you are promoting barbecue equipment. In that case, "Cooking" is a broad category and may not fetch you your quality audience. But "Outdoor cooking" is more specific. Keep a watch on the Specificity meter to ensure that narrowing down your audience does not cost your product exposure.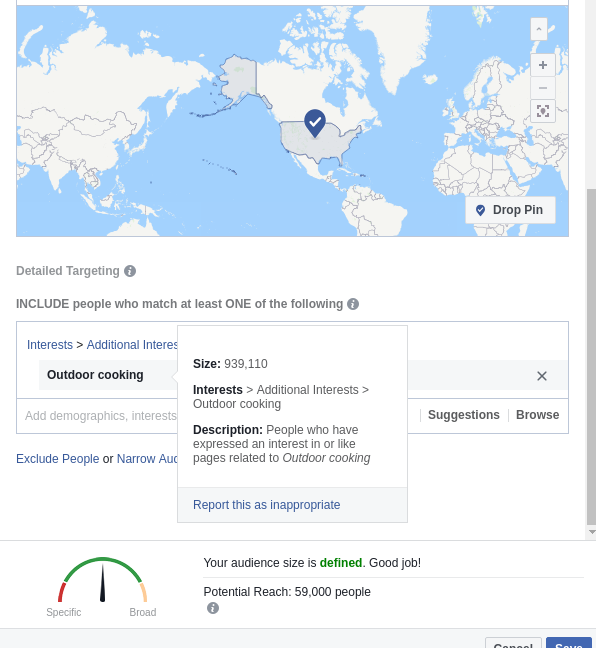 Implement Retargeting
Now that you have your audience specified, you will get a lot of visitors. But not all of them are going to convert.
Truth is, 96% of your online store's visitors are just window shoppers. They would search for a product, browse the available ones related to the search, maybe even add some of those to the cart, and then leave. I do this too. This happens due to a lot of reasons: inability to checkout due to technical errors, a high price tag, no urgency, not convinced enough to buy the product etc.
The worst part is, people tend to forget about it altogether after they leave the site. This is where Facebook retargeting comes in handy. The aim of your Facebook retargeting ads is to drive the window shoppers back to your site.
How will you implement retargeting?
First, you would need to install Facebook Pixel on your site. It is a piece of Javascript code that tracks specific events like page views, purchases etc. When you have Facebook Pixel set up on your site, it will collect the information of the people who have completed an event on your site. It then connects this information with the Facebook profile of these people. This makes it easier for you to retarget them through Facebook ads.
The following video shows how to install Facebook Pixel on your site.
Once it's done, you need to create your Custom Audience to retarget.
In your Facebook Ads Manager, click on the hamburger menu to go to Audiences.
Now click on Create Audience -> Custom Audience ->Website Traffic.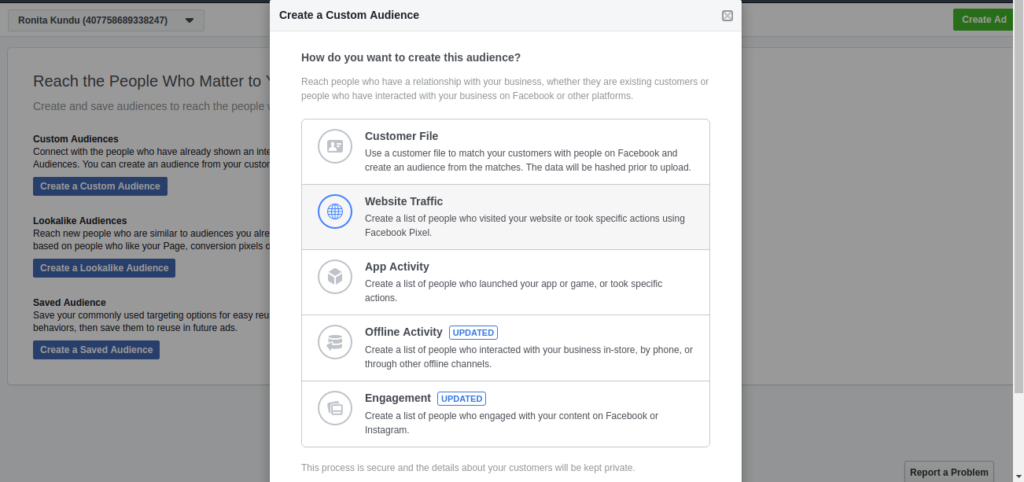 Here you can specify who gets to see your ad based on the actions they have taken on your site. In Website Traffic, you will get options like:
Anyone who visits your website
People who visit specific web pages
People who visit specific web pages but not others
People who haven't visited in a certain amount of time
You will also have an option to create a custom combination.
Let's say you have an online shoe store and you want to remarket to people who have visited your website, looked for women's running shoes, and left. To do this, select "People who visit specific web page". In the next row, add the keywords for women's running shoes.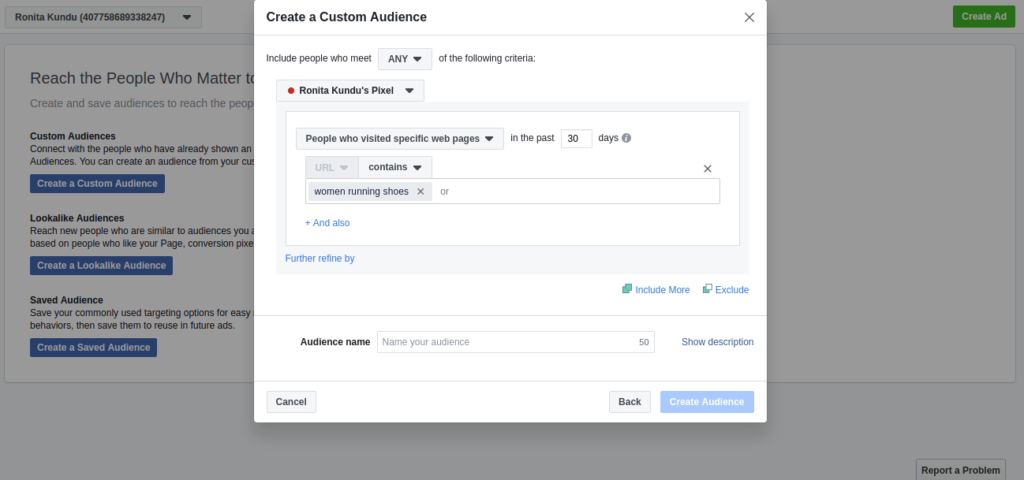 If you want to target people who have added such shoes in the cart and then left without purchasing them, you need to select Custom Combination and then add your conditions. Here you will need to include two conditions: URLs containing the keywords (women's running shoes) and the checkout page. Exclude the Thank You page condition. This will segregate the people who have gone as far as the checkout page but not the Thank You page since they haven't made a purchase.
Now select the duration for which you want this ad to run. Keep in mind that ads for retargeting cart abandonment will work for not more than 15 days since people tend to lose interest after that. Name your custom audience and hit Create. With this, you complete creating your custom audience.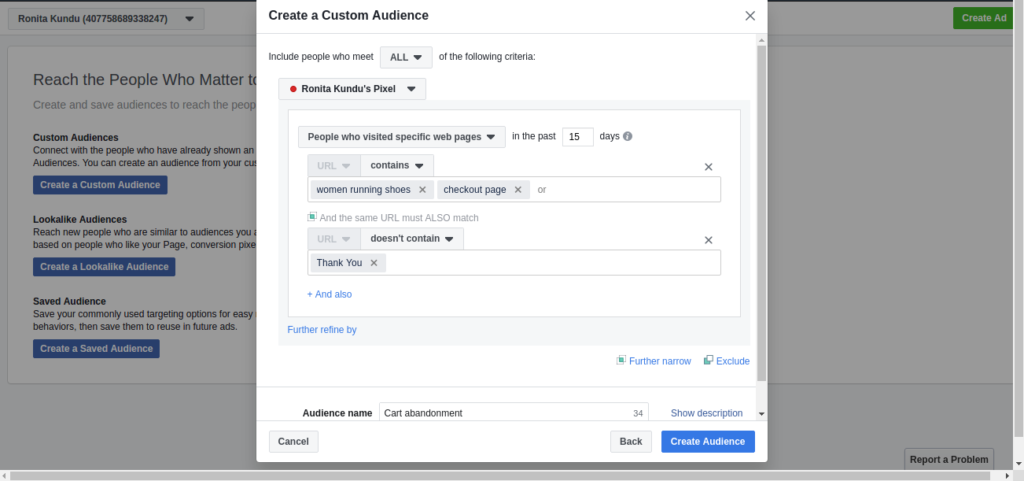 Next, you need to create an Ad campaign like you would normally do and select the Custom Audience that you just created to target.
Run Dynamic Product Ads
Dynamic ads are excellent instruments to target potential customers through all stages of the sales funnel. It enables the copy of your ad to dynamically change based on the product that the ad viewer has been searching for on your website. So, it delivers the right ad copy to the right person at the right time.
Not sure what it does yet? Okay here's an example:
Let me know if you've experienced this. You search for running shoes on a shopping app in your mobile and then close the app. After a few minutes, you open up Facebook on your phone to kill time and start scrolling through the News Feed. Suddenly, you find an ad showing products just like the running shoes you've been checking out. It's as if they just heard your thoughts. This is the work of dynamic ads. It's as spooky as it is effective!
The best part of dynamic ads is automation. You do not need to configure the ads separately every time.
So how do you set up dynamic ads on Facebook?
This process has quite a few steps that you need to get right. You can either take the help of a technical person or set it up yourself. Following is the DIY guide with the steps highlighted.
First, you need to create a catalog from the hamburger menu in your Facebook Ads Manager account and give it a name.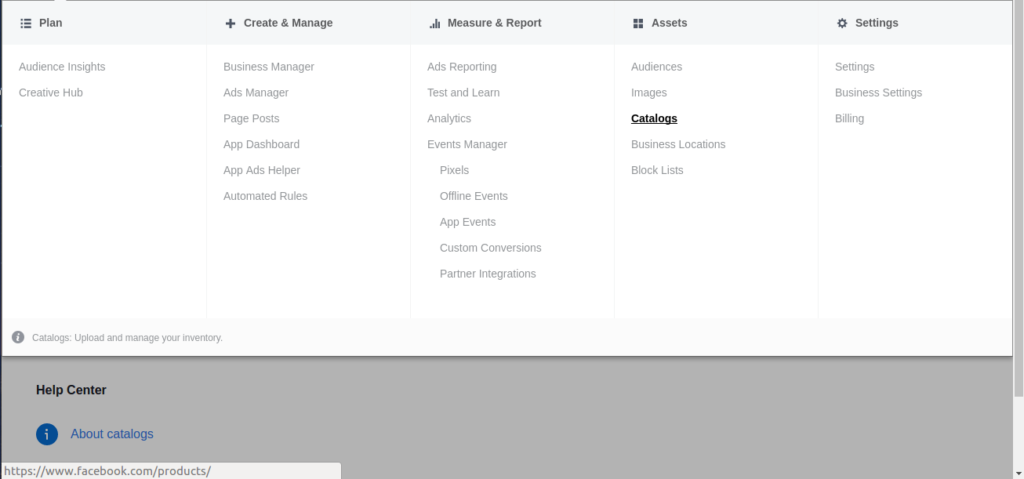 Catalog -> Create catalog -> E-commerce -> Next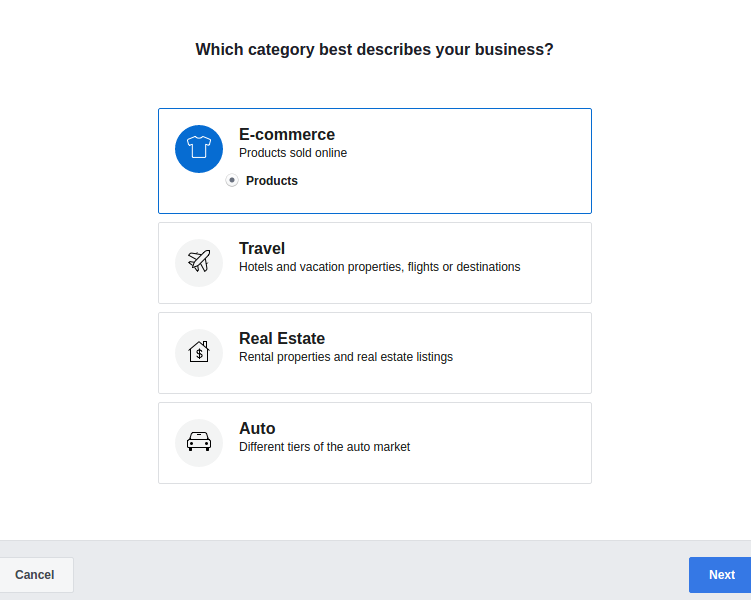 Choose how to want to add products to your catalog and click on Create.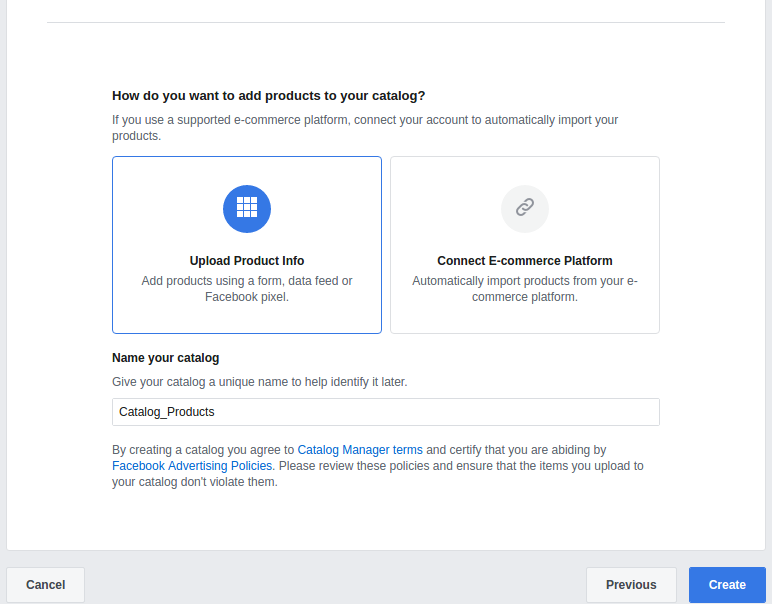 Now start uploading products. You can do this in three ways:
Add the products manually
Upload a pre-created data feed file containing product info
Connect Facebook Pixels
Here's a set of instructions specified by Facebook to upload products. In this link, you will find steps to achieve the following:
Use data feeds to add products
Add products manually
If you want to connect Facebook Pixel to your products, this guide will help you achieve the same. This product catalog will act like a database from where the product data is pulled in a dynamic way based on the Pixel's instructions.
Next up is setting up the dynamic ad template. By now you have already achieved two things:
Created your product catalog
Added the inventory
With ad templates, you get a lot of options. For example, you can choose a single ad format or a carousel format, choose to display the ad within the News Feed or on the right-hand column and so on.
Here's how you can set up the template:
Go to Facebook Ads Manager -> Create Ad.
Choose Catalog Sales as your objective.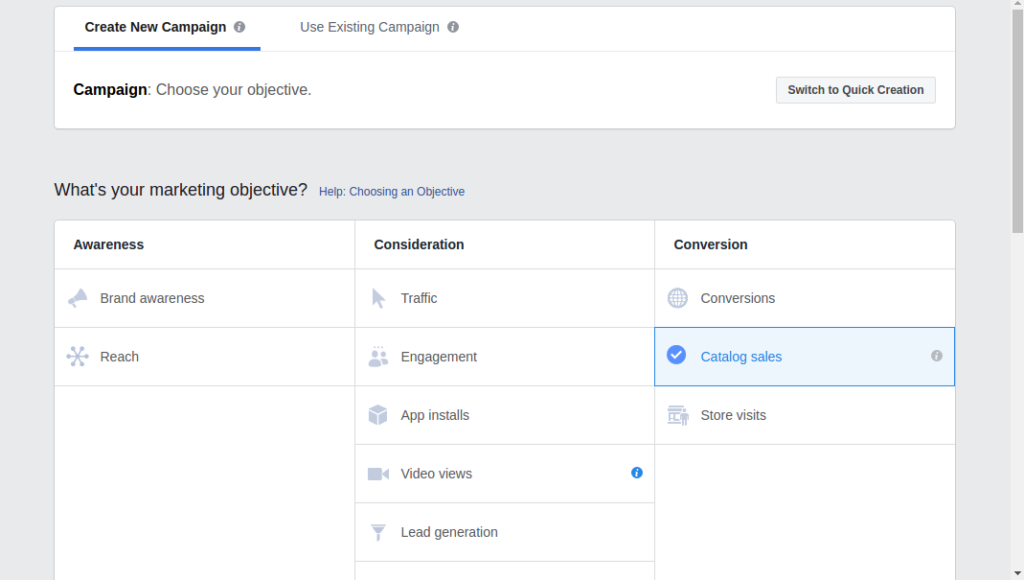 Select the catalog name from the dropdown menu. This menu will show the catalogs you have created. Click on Set up Ad Account.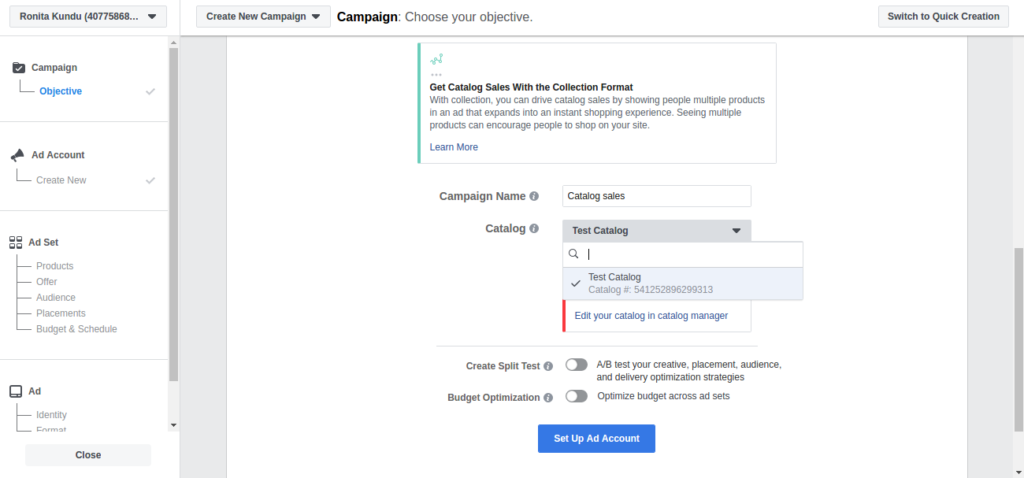 Continue to the Products section. You will now get an option to select the products you want the ad to display from the product inventory you have uploaded. Now select your audience, ad placement preference, budget, scheduling, and ad format. Add the other details of the ad including ad format, ad description, call-to-action etc.
All done. Now it's time to run the campaign. Once you start the campaign, here's what Facebook will do: it will pull data from the shoppers' behavior on your site and display the ad based on the product searched for.
Focus on Ad Content
Never underestimate the power of the ad copy. It can make or break the ad.
The Facebook ad copy needs to mean exactly what it says. This means viewers shouldn't be surprised when they click on it.
Why? Facebook is anyway noisy with all the messages, pictures, quizzes, game updates etc. This leaves hardly any room for people to take out time to think about and understand an ad. As a result, straightforward ads perform way better than others.
Keep your ad copy conversational. You can start with a question to pull in your audience. Ask a question that your product (that you are promoting) solves. The good thing about question is, those with the answer 'No' to it will keep scrolling past your ad. Why is this good? It would filter out the people who would have left your ad's landing page anyway without converting. This increases the conversion rate of the landing page.
Facebook has been urging its users to create video ads. Why? It's because online shoppers who are presented with videos are 1.8 times more likely to convert than those who don't. Facebook has a complete guide on how to create a video ad.
What the Expert Has to Say
Facebook ads have excellent potential if done right. While my research and experiments have led me to compile this blog, I decided to reach out to a seasoned expert for comments. Paulius Melkūnas is the Facebook growth expert at Shopify. Here's what he had to say:
"First of all, when getting into ecommerce and starting to run ads, you have to keep in mind that you're only buying data. Don't concentrate on sales at first. You won't be able to get many sales in first days. Buy data from Facebook. The more data you have (visitors, clicks, add to carts, initiate checkout), the more quality traffic Facebook will bring you.
After a while you can start optimising on events that are closer to holy Grail – sales. Go slow from View Content conversions event to Add to Cart and then Purchases. Keep in mind that you have to get minimum from 20 to 25 desired conversions event from Facebook algorithm to optimize correctly.
Another thing, don't rush on turning off ad sets and evaluation on how successful your business will be. There will be a lot of bad days, even when you won't be a total newbie. So don't rush with the decisions that are based on one day performance. Look always at the bigger picture, because usually bad days are followed with great days and in total you can see that you've reached decent results."
Case Study: How BionicGym Optimized Their Video Ad
BionicGym decided to promote their home exercising products through video ads. It generated over 2 million users. They were reached at a very low cost-per-view – for every 3-second the video was viewed, they were charged only $0.004!
While the views were excellent, the ad couldn't generate the conversions that they expected. So, they asked a Facebook expert to review their ad and made the following tweaks:
They changed the objective of the campaign to 'Conversions' from 'Views'. When you tell Facebook exactly what you want from the ads, its algorithm places your ad in front of the right audience.
What BionicGym was doing wrong was using the same ad to target everyone across all countries. So they made the ads gender and location specific and ran the ads with different placements which included Desktop and Mobile.
They retargeted those who viewed the video ad and visited their website
BionicGym used Lookalike audiences to target the ones most similar to the ones already targeted
They re-allocated funds to the ads based on their performance
The result? The video ad started generating a 300% return on investment within a few months! Such success led to increasing their Facebook ad spend from $2,400 per month to $45,000 per month. There has been no looking back since.
To Summarize
To sum up what we have learned here:
1. Identify your goal – What are your expectations from the Facebook ad? Site visitors? Sales? Facebook page followers?
2. Identify your target audience – This is the most important step. This will help you place your ad in front of the right people – those who are highly likely to convert.
3. Retarget window shoppers – They are already familiar with your brand. All you need to do is give them a little push in the right direction.
4. Utilize dynamic ads – Target the right person at the right time.
5. Be straightforward with your ad copy – Because the attention span of human beings has reduced to 8 seconds!
So what are you waiting for? Get started today! If you need assistance, you can reach out to us. We would be happy to help you.