4 E-commerce Business Ideas With Minimum Investment (And How to Launch Them)
The Internet has unlocked multiple money-making opportunities for everyone – everyone with a computer. As a result, it has become the breeding ground for startups.
It provides a number of free tools to start an online business irrespective of the budget. In the age of e-commerce, this acts a brilliant kickstarter.
In this blog, we are going to take a look at 4 e-commerce business ideas that require minimum investment along with a guide on how to launch them.
1. Drop Shipping
One of the biggest challenges of starting an e-commerce business is investing in inventory. Drop shipping eliminates this problem.
With drop shipping, you do not need to keep any inventory. All you do is set up a store-front online with your niche products and set their prices. Once you receive an order, you place an identical order with the merchant selling the product at a wholesale price. The merchant then ships this product to your customer under your name. Your profit is the selling price minus the wholesale price.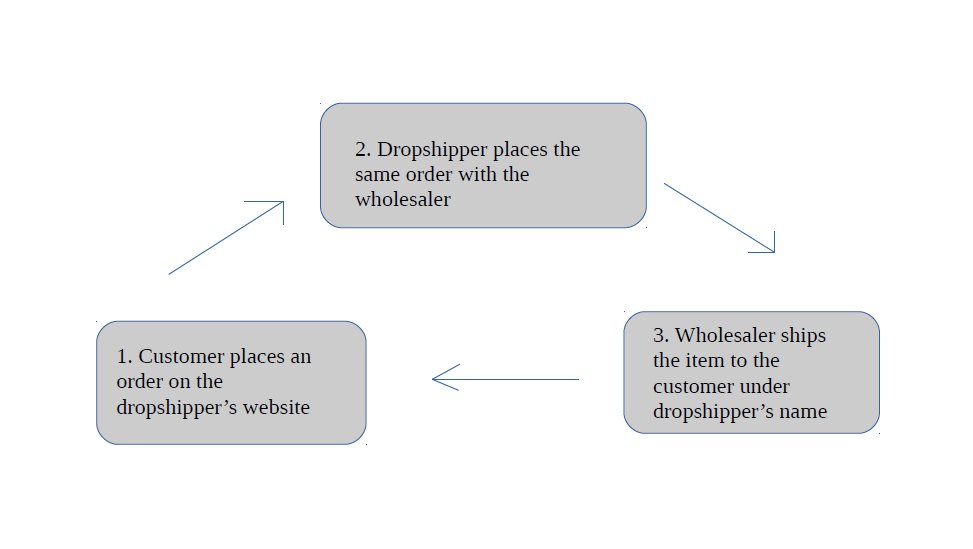 How-to Guide:
Find a niche product category
You can select from among electronics, apparel, accessories, etc. Check out the trending categories on Amazon, eBay etc. You can choose one of those for guaranteed profit.
Check out some useful directories listed by Shopify in this blog.
Here's how:
Need help launching your dropshipping website? Contact us.
Leverage social media for a good reach at zero cost.
2. Educational Products
The number of Internet users worldwide has risen to 3.58 billion!
More and more people turn to the Internet to look for information every day. You can leverage this to make good money. If you have a thorough knowledge of certain topics or can gather enough information through research, you can start creating and selling relevant content online.
The best part about this e-commerce business idea is, you get to make money in your sleep.
The following types of content work really well:
How-to video guides
Webinars
E-books
Audiobooks
Study materials
Online courses
You can draw inspiration from some of the leading educational sites like Cousera, Udemy etc.
How-to Guide
The best place to start with is your topic of interest.
Check out the competition
Find out what works on large retailers' websites. Go through discussions on online forums and social media. Watch a few YouTube videos.
You can charge a subscription fee for courses extending over more than one video. E-books can be charged individually to unlock download password.
From airplane-building to a topic on Zoology, there is no dearth of information on the Internet. So, your product should have reason enough for people to spend money on them.
3. Stock Photos
Have a knack for photography? You can easily make money off the fact that good photos are always in demand. If you have a bunch of high-resolution, impactful images that can be used across various business domains, you should set up a website for selling them.
Some of the competition that you can aim for include:
As your business grows, you can start accepting images by other photographers as well.
How-to Guide
If you are using WordPress as the platform for your e-commerce business, you can install the Sell Media plugin for selling your photos.
Check out the complete tutorial to get started:
4. Hand-made Products
If you have a creative inclination, you can monetize it even with a low capital by creating your very own Etsy. In the world of synthetics and machinery, hand-made products are like a breath of fresh air. From jewelry to food, anything sells. If you need a little help choosing your niche, here's a list of items you can take inspiration from.
Jessica Near, owner of Opposite of Far found her niche in hand-sewn felt animal masks and related products for children. Read about her story in this interview.
How-to Guide
You can put up your products on popular e-commerce stores like Etsy, Amazon Handmade etc. Or, you can launch your store on an e-commerce platform like Shopify.
Facebook is where your products should be. Launch a Facebook store with as many product images and details as possible. It will increase your business's reach tremendously.
Nothing seems more satisfying than watching the cash roll in as you start selling your products online. The success is sweeter when you have invested only a minimum amount in the business.
So what are you waiting for? It's time to get started.