The Case of E-commerce Product Return – Who's to Blame & Ways to Reduce
Product return in e-commerce is a growing nuisance for retailers. It accounts for a significant loss in revenue and time. Too many processes are involved in product return – back-and-forth emailing, return authorization, tracking returned items, inspection of returned products, managing inventory, etc. Even with a streamlined return process, excessive e-commerce return rates keep shop owners awake at night.
What's worse is, there's more to lose with e-commerce product returns than just money. With every product return, you have an unhappy customer. This means you run the risk of losing a customer that you had invested a substantial time and effort (and money) to acquire. As the numbers go, it costs 7x more to acquire a new customer than converting an existing one.
Of course, there are cases of serial returners. A serial returner is someone who, in most cases, has an uncontrollable shopping impulse. While serial returners hurt your business but they only have a small share in product returns. The best solution for serial returners is identifying the personas and limit promotional offers for them. But that does very little to solve the problem of huge volumes of e-commerce returns which generate from customers other than serial returners.
Who's to Blame
Then where does the problem lie? The surprising fact is, the root cause of this problem lies with the retailers themselves. In a recent study by Statista, it was found that the common reasons behind product returns are the following:
In the above graph, all of the reasons except for "Ordered more than one of an item" and "No longer wanted item", put the retailers at fault.
Think about it. "Faulty or damaged" could mean that the packaging was not sturdy enough. "Not as described" could indicate that the product description was unclear, the visuals were not up to the mark, missing information in product details. "Poor quality" could mean that the retailer might not have checked the item thoroughly before stocking the inventory. To an extent, "Poor quality" can also be attributed to "Not as described" which could mean that the product did not match the expectations that the customer had formed based on the product description.
Now that we have identified where the problem lies, it becomes easier to solve it – even more because now the control lies with you instead of the customers. This makes the situation more manageable and predictable.
Ways to Reduce
First off, let's take a detailed look into the reasons pointed out by the Statista study mentioned above one by one and try to find how to rectify the mistakes.
1. "Faulty or Damaged"
Some of the reasons that cause product damage:
Improper packaging
Mishandling by the courier
Bad last-mile road conditions
Human error
Poor warehouse conditions
Low-quality packaging damages your business's reputation. It's always wise to invest in sturdy cardboard boxes, foam packing, bubble wraps, double/triple lined boxes to cushion fragile products, and proper sealing. Run some tests on your packaging to ensure that they can hold the weight of other boxes placed above them without crushing the products while in transit.
Next up, a reliable courier can save you a lot of trouble and help bring down your e-commerce return rates. A reputed courier will have the experience and expertise to handle products with care, take extra care of fragile products and reduce human error. While it may be expensive upfront, but it will benefit you in the long run.
The following graph shows the share of online stores that used the main shipping service providers in the United States in 2019.
2. "Not as Described"
A common cause of product return is that the items received by the customer did not live up to their expectations. This happens due to two reasons – either the product description was unclear or the visuals couldn't depict the product well.
Product Description
When shopping online, customers lean on the product description to make a purchasing decision. If this information is incomplete, users end up having misguided expectations about the product – causing unnecessary disappointments.
Relevant product descriptions can save you a lot of trouble when selling online. Each product category has a set of attributes that the product description should cover. For example: for apparel, size guide, material, fit, brand information, care instruction are crucial to help users make informed decisions. For furniture, you should be very clear about the dimensions of the product, material, finish, key features, care instructions, manual for assembly if it is a DIY product, information about what to expect if the product comes with a free assembly by an executive. For electronics, the product description should include what comes in the box, warranty, brand name.
If a product has variations (color, flavor, size, etc.), you should include them all on the parent detail page so that customers know their options.
Product Visuals
We're no strangers to "the product looked different in the picture". To avoid this problem, always use high-quality product images and videos. It has been proved that user-generated product visuals are extremely useful, especially for understanding product fit on different body types. Unboxing videos are quite useful for electronic goods that help create the right expectations for customers. Apart from these, new solutions like Augmented Reality and 3D visuals have taken root recently to provide a more immersive experience for users.
Many e-commerce sites use AR try-ons to help customers better understand how the product will look on them (for apparel, eyewear, etc.) or how it will fit in a certain space (furniture, electronics like television etc.). There are several AR apps that you can integrate into your e-commerce platform. For example, the Shopify AR app can be integrated to create realistic and interactive versions of products on both, iOS and Android.
In addition to AR, 3D visuals have also paved a clear way to make online shopping more engaging, persuasive, and more importantly, provide an accurate depiction of the product. 3D visuals allow users to view minute details of the product by zooming in and rotating. Naturally, it requires a lot of high-quality images to create a 3D visual which means the investment is more – so is the ROI.
Note how clear product description has been used with dimensions, visuals, color variations for an online furniture store, Manhattan Home Design in the image below.
3. "Poor Quality"
Product quality issues can stem from two sources: misguided expectations of customers caused by inaccurate product descriptions or problems in the supply chain. Since we have already discussed the first cause in the previous point, let's talk about supply chain here. The supply chain has several touchpoints: ingredients used during product creation, quality of materials used, product assembly, product manufacturing, storage, and delivery. Product quality issues can happen at any step of the process. The higher the number of steps, the more vulnerable the product becomes to damage.
Therefore, it's crucial to monitor your supply chain thoroughly to keep a tab on product condition as it moves through all the steps. The best way to do this is by implementing a quality management system. Depending on the types of products you sell, this system can be a set of rules and guidelines that your supply chain should follow through material manufacturing, product assembly, storing, delivering, etc. Get detailed quality testing reports at every step for quality assurance. Thorough monitoring can help cut down human errors, maintain quality, and build a more coherent system.
4. "Issues With Delivery"
Some of the common issues with product delivery include:
Delay
Shipment tracking errors
Wrong product received
Improper product packing
Late product delivery has a direct impact on your reputation and bottomline. Delays can happen due to unexpected weather changes, poor warehouse management, lack of communication, etc. In case of delays, it's important to let customers know what to expect. Send an email informing them about the delay, the reason, and a tentative time for delivery. Keep them updated about any further changes in the timeline. For same-day deliveries, you should be extra careful about what you promise.
Many store owners prepare and print shipping labels manually. This is a critical step in order delivery. But the human input here makes it susceptible to errors. A common result of this error is delivering a product to the wrong recipient. Erroneous tracking information can be avoided by using a reliable shipment service plugin that handles the end-to-end process with automated printing of shipping labels. The shipment service you sign up for should enable you to track shipments in real-time. Choose your order management system wisely to avoid limitations in product tracking or restrictions in staying connected with your customers.
More Ways to Reduce E-commerce Returns
1. User-generated Content
User-generated content has shown a massive impact on customers' buying decisions over the years. Think of Amazon. How many times have you relied on the reviews, ratings, and images shared by customers to buy a product? Higher the value of the product, the more the importance of these reviews. Customers trust reviews more than product descriptions especially because reviews point out the cons by real users which the product descriptions don't. For apparel, images posted by users help others understand the actual fit of a product as opposed to the images of sculpted models in the product descriptions. This helps customers rely less on their imaginations and create a more realistic expectation of a product – reducing the chances of product return manifold.
However, asking customers for reviews after they purchase a product has proved futile many a time before. This is especially because customers perceive it as an extra step in online shopping. You can make this process smoother by using a simple and highly responsive product review form with minimum and easy-to-understand form fields. You can also incentivize users for leaving reviews with product images.
Apart from reviews, social media plays a large part in product choices today. Many sites integrate user-generated Instagram content in their product description pages to help users make an informed purchasing decision.
Following is an example of how online jewelry store, Our Cuff uses user-generated content to provide customers with comprehensive information.
2. Lenient E-commerce Return Policy
Talking about adopting a liberal return policy when we are trying to reduce e-commerce returns may seem counterintuitive. But several researches have found that it's actually the opposite. When you make it easy for customers to return a product, you remove the hassle and the urgency from the process. This increases trust which translates into more sales.
Not convinced yet? Bear with me.
An effective way to ease returns is to increase the return period to 45-90 days. A longer time limit eliminates the pressure of returning the product. Instead, it allows more time for the customer to live with the product which in turn creates a familiarity with the product. This is what researchers have named as the "endowment effect". Towards the end of the return period, many users tend to think that the product may not be so bad after all.
IKEA and Nordstrom are known for their lenient return policies. Many consumers decide to make a purchase based on the return policy of an e-commerce website. In fact, customers won't even purchase from a brand if it doesn't pay for shipping.
That being said, it's important to not be overly generous with returns because that might cause misuse. It's best to find a middle-ground that works for your business without creating pressure on your customers.
3. Send Targeted Post-Purchase Emails
Every time a product is returned, collect two kinds of data:
Why is the product being returned?
Who is returning it?
This data will allow you to segment frequent returners and products with a high risk of return. Once you have this data, you can use it to create targeted post-purchase emails.
For a high-risk product, identify its faults from the common reasons of return. For example, if a denim runs small, send an email showcasing tight denim trends and how celebrities are following it now. You can also add the information that it runs small in the product description so that users are more aware of their choices.
For a high-risk customer, don't let them sit around till delivery wondering whether they made a good decision. Keep them excited about what they purchased through innovative usage ideas, pictures of how other customers are using the products, its benefits, etc.
4. Personalization
Personalization works really well to help customers find the right product when they aren't sure about what they are looking for. Matching customers with the right products goes a long way in reducing returns. This comes in handy especially during the holiday season when people look for gifts for themselves or their loved ones.
What you can do is categorize products based on different buyer persona and use them as product suggestions every time there's a match. For example, broad product categories can include Bookworm, Fitness enthusiast, Chic, Tech Junkie, etc. You can help visitors find the right category by directing them to a quiz once they land on your website. The answers can be used as removable filters to create a product suggestion list.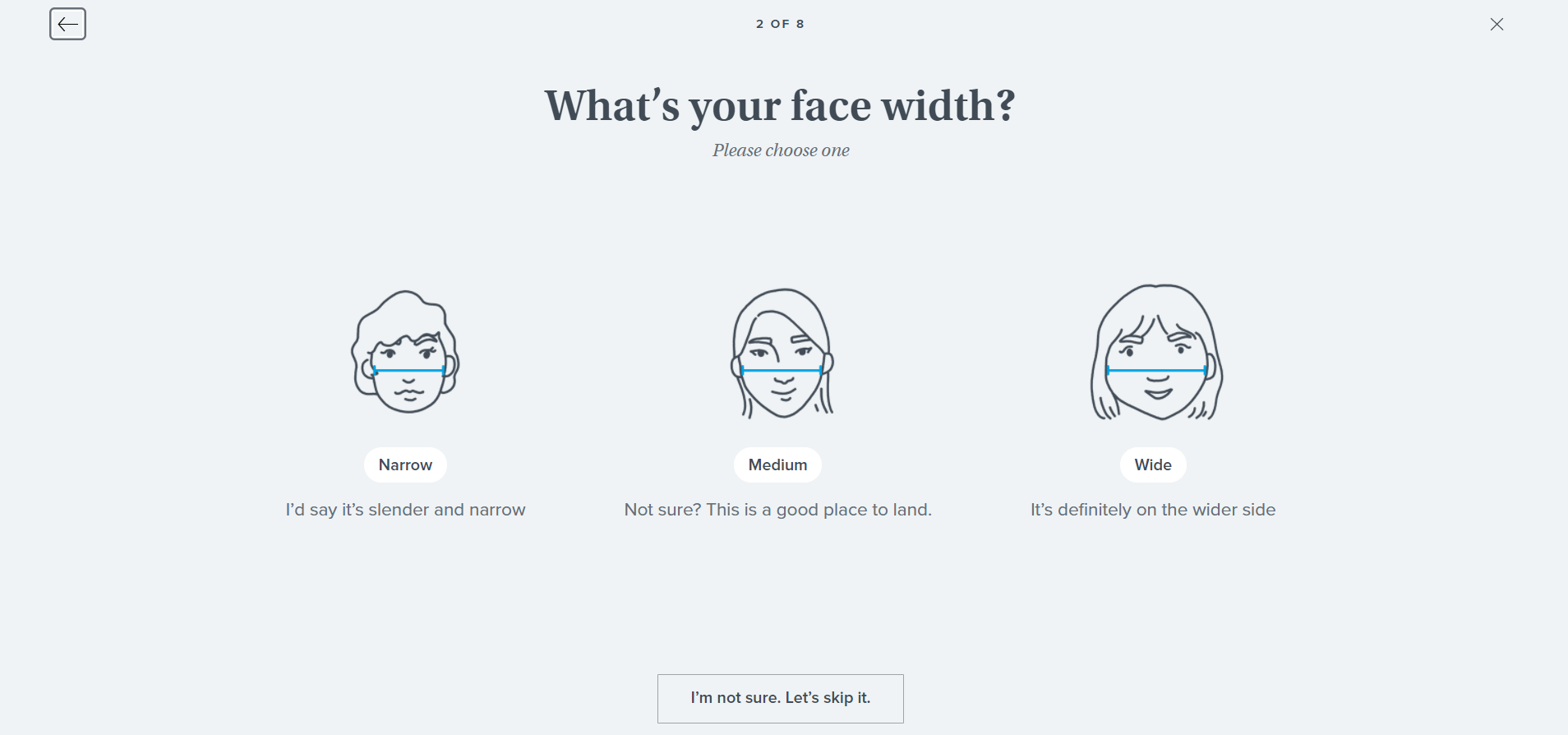 Personalized product suggestion using interactive quiz used by online eyewear brand, Warby Parker
Conclusion
The key in reducing e-commerce returns lies in two things:
Providing enough information to help in decision-making
Understanding customer behavior and creating strategies around that
While reducing e-commerce product returns is a possibility, eliminating it completely is something is impossible to achieve. Therefore, it's always wise to make the most out of it your returns. You can do that by treating it as an opportunity to create a good impression of your brand and resolve customers' issues. When returns are easy, customers are more likely to order from your store again.