Preparing for 2021 Online Holiday Sales – What the Experts Have to Say
Pandemic or not, the holidays are coming.
Last year, people stayed home and resorted to online shopping to minimize contact. This year, things are looking different. People have started to embrace the new normal. Shops have reopened. People are looking forward to spending time with family.
Even with the ongoing pandemic, it is the season of beginning to pick up where we left off.
In 2020, sales for online holiday shopping went through the roof. U.S. consumers smashed all records with a 26% rise in year-over-year sale online. This expanded the target group for online shopping. Since then, many have become loyal customers owing to the convenience and the exemplary service provided by the e-commerce industry during the time of need. So, this holiday season, people are highly likely to keep coming back to online channels for shopping.
To make their experience seamless, now is a good time to start planning for the online holiday shopping season. We went ahead and asked brand owners and online retail experts about how they are planning to spread the holiday cheer this year. Let's take a look at what the experts are saying.
Start Early
This is a highly debatable topic for holiday season retail. So, when is the right time to start holiday promotions? The short answer is – as early as possible.
Let's look at some stats first. Last year's Statista survey revealed that approximately 38% of respondents start shopping by the end of October.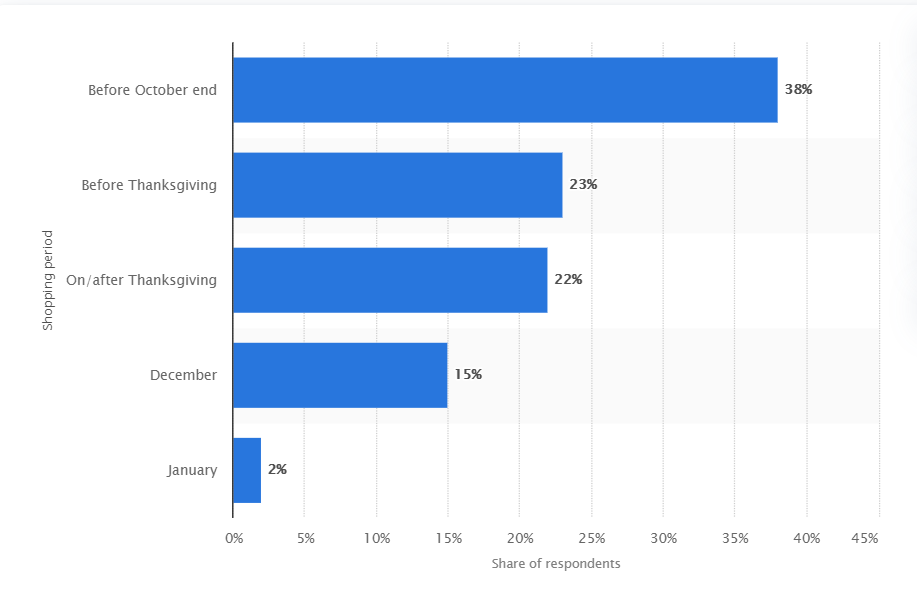 Source: Statista
This goes to show that Christmas shopping online starts early. Hence, as a rule of thumb, the period between late October and the first week of November is a great time to start holiday promotions.
Even with branding activities for the online holiday shopping season, the saying "Early bird catches the worm" sticks.
"During the holiday seasons, consumers are bombarded with messaging, so we work on brand building in advance to introduce ourselves to new customers and to stay engaged with past customers. We do this through digital ads, communications with our email list, public and mission-driven events and PR events that build on our public and mission-driven events."

– Mark X. Cronin, Co-founder, John's Crazy Socks
Mark X. Cronin is the co-founder John's Crazy Socks with his son, John who has Down Syndrome, a crazy affinity for socks, and love of making people smile. This father-son venture has a clear mission to spread happiness through socks.
Website Optimization
The holiday traffic surge is real. And there's nothing worse than website outage during peak shopping days. So, your web infrastructure needs to be ready for the rush. The three most important things you need to look at first:
Speed
Responsiveness
Security
If you are using common e-commerce platforms like Magento, Shopify, WooCommerce, etc., you are most likely covered for site performance and scalability. But it's still important to check page loads for every element of your site. Check how long it takes for the visuals to fully render and the site to become interactive, the performance of checkout and payment gateways at the peak of traffic, etc. Test your third-party integrations to check whether they are updated and ensure that they do not overburden the site or break the user flow.
Last year, in the days following Cyber Monday, mobile shopping accounted for 39% of consumers' expenditure. This year, 67% of holiday shopping sales is expected to come from mobile. This means, you need to work harder on the responsiveness of your site to tackle the online holiday shopping crowd. The goal is to reduce customer effort and make their browsing experience on mobile easy. Things to check:
Since mobile devices act as notification aggregators, users are going to be interrupted frequently while placing an order. To assist users who have been interrupted, provide easy ways to save desired items, ensure that there are no data persistence issues while filling forms, ensure that all pages have clues that make it easy for users to resume where they left off, etc.
Provide breadcrumbs in product pages so that users know exactly where they are in the website and how to go back
Use legible font sizing, ensure suitable spacing between tappable elements, and provide hit areas of an appropriate size
Keep all forms simple with minimum form fields – applicable for review form, checkout form, etc.
Use auto-complete and autocorrect features to reduce customer effort
Avoid carousel auto-rotation and playing videos automatically to minimize confusion owing to the small viewport
Click-to-call contact details are best for mobile. If it cannot be implemented, ensure that the contact details are copyable.
S
Source – Baymard
In addition to speed and responsiveness, you would also need to lay stress on security.
"Ensure you have adequate bandwidth to keep your site up and running, as well as to make certain you have adequate fraud protection as fraudulent activity spikes during the holiday shopping season. Last year my clients saw a spike in scam activity on Facebook, with brand imposter pages pretending to run fake giveaways in an attempt to scam our followers by falsely claiming they won a prize and needed to provide payment information to receive their prize, this was a huge problem and took a lot of extra hours to find and take down these fake pages. Also, platforms such as Shopify come with Cloudflare protection included, this will prevent and mitigate common DDoS attacks on your e-commerce site and ensure smooth running during the busy holiday season. My clients also saw a spike in DDoS attacked mid-December that sent tons of fake traffic to their websites in an attempt to crash them as well as to skew their analytics data, which can easily be filtered out if you are using Google Analytics as your main e-commerce data collection platform as a check and balance to built-in analytics that are not able to filter out bot traffic data."

– Erik Bucci, Growth Marketer and professor of business management at FIT
User Experience
Users expect a friction-free way to get what they need. During busy periods, it becomes even more crucial to make the customer experience smoother because all your competitors are fighting for their attention for their online Christmas shopping needs. A few key ways to make it work:
Gift finder tools do a lot of decision-making for shoppers. You can create a questionnaire based on your target group and products. The answers can then be used as filters to direct shoppers to a highly focused list of products that they can choose from. This reduces customer effort and eases decision-making, especially when shopping for Christmas gifts online.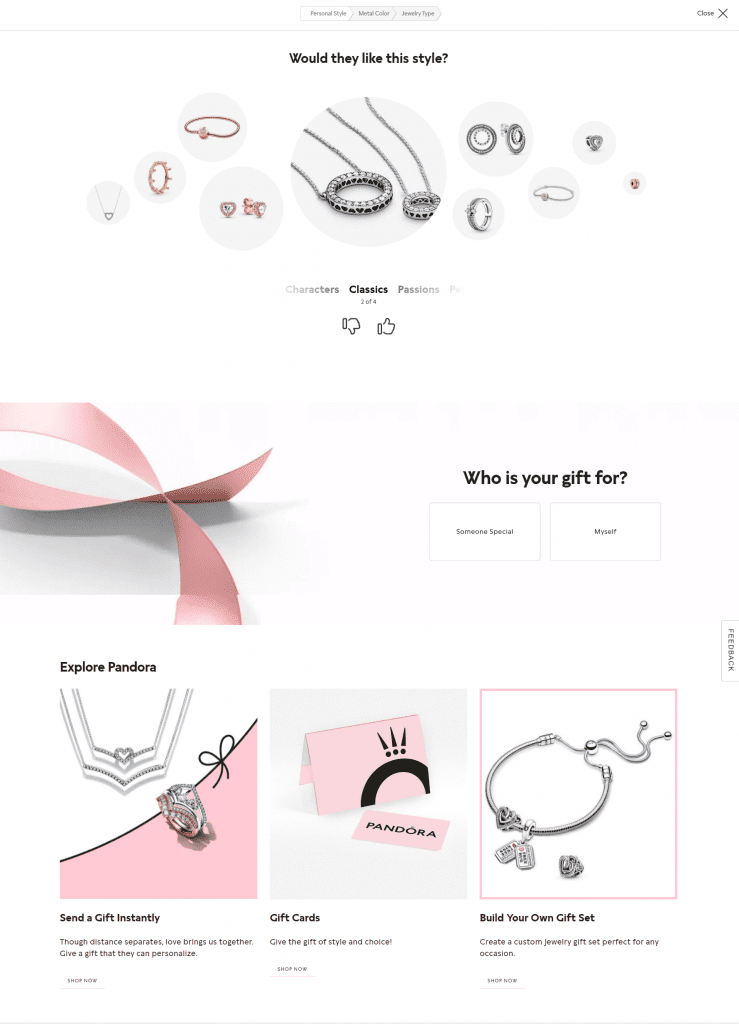 An example of a Gift Finder by Pandora
Clear and detailed product information saves a lot of after-sale hassle for the customer and business owner. Optimized imagery with appropriate ALT attributes is useful any time of the year. Incorporate user-generated visuals to help shoppers make an informed decision. If the budget permits, use AR tools to provide a more immersive, store-like experience. When users know exactly what to expect, it cuts down returns significantly.
In addition to testing your checkout process, ask for customer feedback to understand what went wrong in their checkout and how it can be improved. Make form fields clearer by using microcopy. Add a progress bar if you have multi-page forms. Offer multiple payment options to avoid abandonment. Following is a chart of popular payment methods in the US.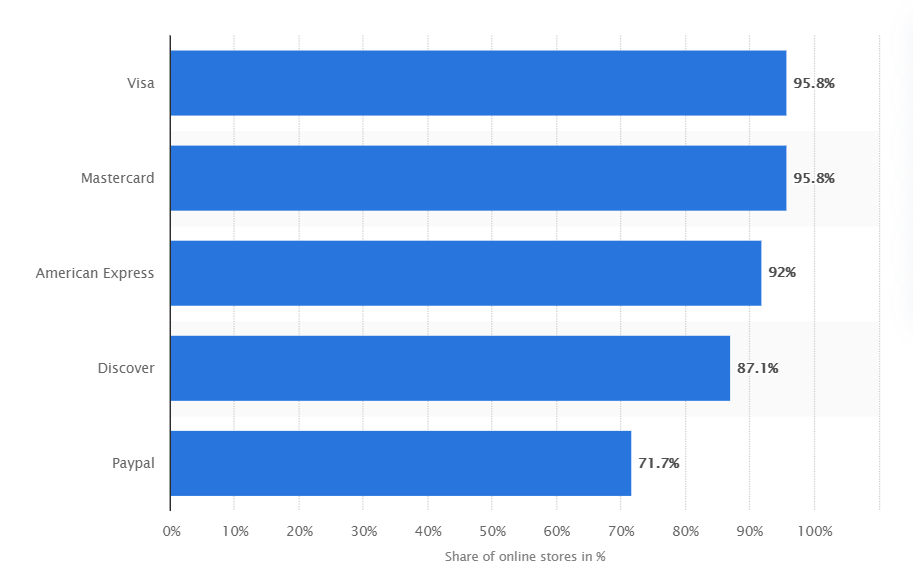 Source: Statista
Preparing in Advance
You know you are not alone in this race. Your competitors are doing their best to capture the online holiday shopping market too. So planning ahead can save you the anxiety. Here's how Mark X. Cronin works on list building, product development, and inventory building well ahead of time –
"List Building: We work on building up our mailing lists and contacts with our social media platforms and website so that we can maximize the reach and effectiveness of our re-targeting efforts.

Product Development: Especially with the challenges in the supply chain, we make sure we have squared away the special products and offerings we will make during the holiday season.

Inventory Management: We review sales form past years and make sure we have sufficient inventory to meet the holiday demand."
Shipping & Fulfillment
There's going to be a lot of forward and reverse logistics involved during the online holiday shopping season. What customers need is a satisfactory fulfillment experience. Instead, they usually end up with a cumbersome process, delayed delivery, unaccepted returns, problems in refund, etc. You can be better than that if you think ahead.
If you are handling fulfillment in-house, delays in delivery are expected during the holidays. Even customers know that. But what isn't acceptable is keeping them in the dark about it. First of all, there should be a clarity of delivery date during checkout. If it cannot be met, shoppers must be intimated before the delivery date about the delay, the reason, and an estimated waiting period. People are more forgiving when they are informed beforehand.
"I meet ahead with everyone involved, do my best, adjust as needed, keep people informed."

– Timothy Peterson, President & CEO, RobRoySW
RobRoySW is an apparel brand that focuses on inclusion through its gender-fluid clothing line. It provides a platform for unifying people through the common ground of love for fashion.
Third-party logistics can give you a lot of freedom in terms of shipping. With 3PL, you will no longer need to worry about unexpected circumstances, packaging, storing, etc. However, it's still important to discuss about the surge ahead with your 3PL partner to ensure that everyone is prepared.
"If you happen to be an Amazon seller, making full use of fulfilled by Amazon (FBA) is a great option to take some of the heat off your in-house shipping and receiving operations as well as easing the number of calls to your internal customer service call center."

– Erik Bucci
If you have an omnichannel presence, you can offer BOPIS – Buy Online Pickup In Store. This is a cost-effective option and gets the products in the hands of customers the quickest.
Holiday-special Promotions & Product Bundles
We've already mentioned when to start your holiday promotions in this blog. Now let's look at how and where to promote your products.
The holidays are all about gifts. Be it buying Christmas decoration online or shopping for Christmas gifts, Halloween celebration, or availing Black Friday or Cyber Monday discounts – "gift ideas" is the key phrase to focus on. Look through your inventory to identify which products can be great gifting options. You can promote them beforehand through contests, giveaways, etc. to draw shoppers in to your site.
"The biggest insight I can give is that consumers are looking for giftable solutions. In addition to the season starting earlier. Traditionally a holiday season selling period is 4-6 weeks. I've noticed this timeline expand outwards of 8 weeks prior to the holiday where online sales begin driving volume for seasonal programs."

– Lindsay O'Dower, Director of Sales, Candy Club LLC
Candy Club offers curated candies in premium flavors, playful shapes, and whimsical names at affordable prices.
Traditional holiday bundles have a history of performing well. Mix it up this year with some COVID-related items to make your holiday bundles more relevant.
"In health and wellness, health packs for mom, dad, etc. On fashion, outfits for a party, a night out, etc. In fashion accessories, a handbag with a wallet, keychain, disinfectant kit, etc."

– Timothy Peterson
Sometimes, factors like competitive pricing, free shipping, easy returns, etc. are great promotion ideas for the holidays. These not only keep the customers engaged but also increase their average order value.
"It all depends on the type of products you offer. For example, if you happen to be in the home goods category you can start your holiday shopping season much earlier this year as many families are planning to get together for the holidays this year and offer them all sorts of bundles to help them make prepping their guest bedrooms a breeze by offering basic to deluxe guest bedroom bundles alongside tiered discounts which go a long way to boost average order value."

– Erik Bucci
Alternatively, you can take the less-travelled route and center your holiday promotion around the purpose of your business. People love being part of something unique. If you know your audience well, you can make a lot of difference.
"Black Friday/Cyber Monday are real events and matter. However, we make sure we develop an approach that makes sense for who we are. Therefore, we kick-off Gratitude Week that starts the Tuesday before Thanksgiving and runs through the Tuesday after (Giving Back Tuesday). We have a mission to spread happiness and believe that happiness comes from gratitude and doing for others. We run promotions that have us saying thank you to our community, giving away treats and finding ways to meet their needs. Since Giving Back is an essential part of our mission, we build that into our Gratitude Week. For example, we will designate on a given day that we will donate $1 for every order to the Special Olympics."

– Mark X. Cronin
For promoting your holiday offers, the common marketing channels like Facebook, Instagram, TikTok, and email stand. However, the experts I talked to have also confirmed that channels like YouTube, SMS, Pinterest Ads, Search / Display promo/sale-specific Ads, partner e-newsletters, CTV, LinkedIn, Hulu, Twitch, others can be used for holiday promotions depending on your subscriber count, products, and target audience. The rule of thumb is to advertise where your audience is.
Bonus – What Our Experts Will be Doing Differently this year considering the pandemic
"Almost 100% online, easy returns, lots of talk of "home for the holidays"

– Timothy Peterson

"I would suggest front loading as much of your holiday promotions this year in anticipation of supply chain shortages that are affecting nearly every category of consumer merchandise so that you can sell as much merchandise at the least discounted prices as early as possible this season, then closer to the holiday selling off the remaining stocks using short timeframe flash sales that are directed at your email/sms lists using Tiered Discounts to keep them excited."

– Erik Bucci
Even with stores opening their doors, the lessons of the COVID-19 era have had a permanent impact on retail. Like workplaces, shopping is expected to take on a hybrid model for years to come. As the holiday online shopping marathon starts, focus on providing a delightful customer experience all the way to post-purchase. Simplify everything. Make it easy for customers to do business with you. That's all that matters.