Wix vs. WordPress – Which is Better for Building an Online Store?
We have been getting a lot of queries about which platform to choose between WordPress and Wix to build an online store. The Wix vs. WordPress question has also been popping up a lot on online forums. Wix's multi-million-dollar marketing budget and flashy campaigns have put it in the limelight for all the right reasons. But how does it compare to WordPress? Is Wix the better choice? Or should you stick to WordPress?
Well, there's no this way or that answer. Both Wix and WordPress come with built-in features, add-ons, and templates to build a custom site with extended capabilities that you can put to use without knowing how to code. So when we suggest one of the two to our clients, a lot of it depends on their purpose and plans. Your requirements will determine the best-suited option. To help you make an informed choice, we decided to do a thorough blog on the topic to cover all the facts.
Wix vs. WordPress – Is it a Website Builder? Is it a CMS?
First of all, Wix and WordPress have two separate approaches to building a website. Wix is a website builder whereas WordPress is a content management system (CMS) that you install on your own web server. This means that with WordPress, you need to rent a space on the internet where your website will live. So you need to sign up for web hosting first, pick a domain name, install WordPress software on the web host, select a theme, and then start creating your website. 
Sounds complicated? It's actually less intimidating than it sounds.
Think of the CMS as your Google Docs where you create new pages and publish them on the web. Similarly, the WordPress CMS gives you some handy tools that you can use to create new web pages and edit your site's content without knowing how to code. These tools or plugins can be adapted to meet the requirements of your website. So there's a bit of 'joining the dots' with WordPress which makes the learning curve steep but doable with a bit of technical adeptness. And you can do it without any knowledge of coding.
How does it compare to Wix? Wix is a hosted solution which means it runs on its own servers. So, you don't have to buy any hosting or install any software anywhere. Wix gives you the entire package of a custom domain name, hosting, templates, a CMS, and plugins. Customer support is also a part of the Wix package which means you get hand-holding both during and after your build. All you need is a web browser and the internet and you're all set.
From the moment you sign up, you are given clear cues for setting up your website. You can either use the drag-and-drop editor to build your website or use the Artificial Design Intelligence (ADI) tool to get your website served up on a plate. The Wix wizard will ask you questions about the site you want to build, you can choose from a catalog of features that you want in your site, pick an aesthetic, and even select sub-pages to create an AI-generated website. So, with Wix, most of the work is done for you.
The key takeaway from this is that Wix is comparatively easier to set up and requires zero technical skills. So, if you're a beginner and want to test the waters of building a website, Wix is the solution for you.
Wix vs. WordPress – E-commerce Functionality
Before getting into the details, let's be clear about one thing first. Wix was not built to beat out powerful e-commerce platforms like WooCommerce or Shopify. Wix is about providing business owners with ease of setting up and marketing their websites. Naturally, there are compromises. So the idea is to look at both these technologies from an out-of-the-box standpoint and then utilize the help of plugins/apps to extend the functionality.
1. Creating an Online Store
Let's look at Wix first. 
E-commerce features are available with only some of Wix packages. E-commerce plans start at $34 per month with a storage space of 20 GB and 5 video hours. There are higher-priced plans as well that make building an online store a breeze. 
Wix has ready-made templates for online stores where you can add as many products as you want. Product presentation options are amazing. You can add 15 photos for every product which more or less covers all the angles. You get a zoom-in feature and also the provision to add product videos. You can also mass-import products using a CSV document. Wix may not have the best inventory management tools but it gets the job done effectively.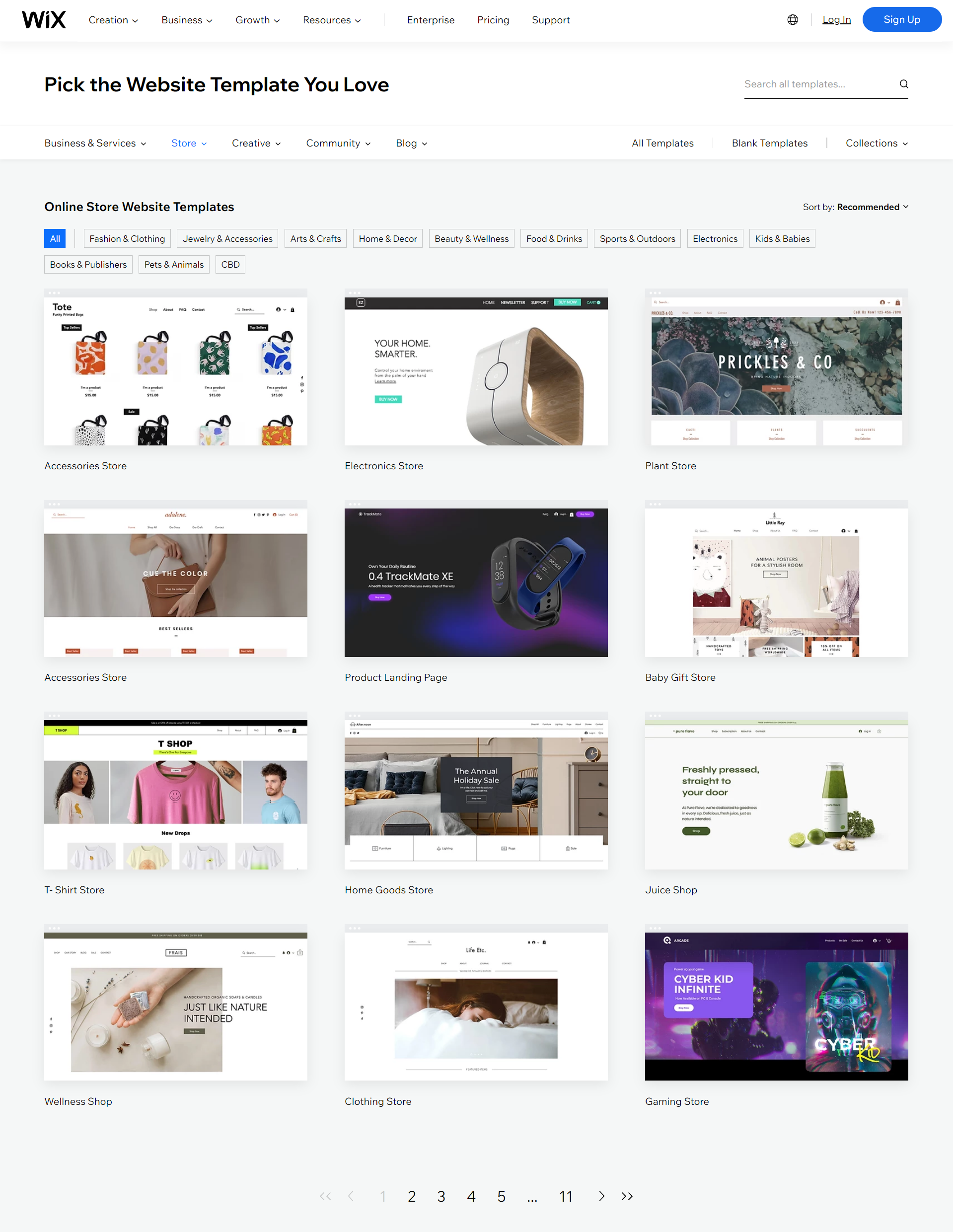 Source: Wix
WordPress, on the other hand, does not provide e-commerce functionalities out of the box. You need a plugin for that. This gives you a ton of flexibility since you get to choose a plugin that matches your requirements 100%. But on the downside, it is going to need a bit of configuration. WordPress makes up for it by making the process easy, providing free plugin options, and most importantly, providing a full-featured solution with a level of flexibility and scalability that's hard to beat.
WooCommerce is the most commonly used e-commerce plugin for selling physical products. It has features like unlimited product photo uploads, versatile product search through tagging, sorting, filters, etc., inventory management, geolocation tracking, several checkout alternatives, and more.
While most of these features are present in Wix as well, what makes WooCommerce unique is its open nature which allows full-blown customizations to your store. But Wix limits you to what the website builder offers natively. This is what makes the WordPress + WooCommerce combination one of the A-listers for large-scale online stores.
Other popular e-commerce plugins for WordPress include Easy Digital Downloads for ebooks, software licensing, music, etc. and MemberPress for selling online courses, pay-per-view content, etc.
2. Shipping & Payment
There isn't much to fault Wix on shipping and payment. You can create shipping rules depending on the product price, weight, or based on a flat rate. You also get Point-of-Sale (POS) functionality with Wix apps to support your omnichannel e-commerce setup. If you are located in the US, Wix POS is a built-in option you can use. An alternative is the Wix Owner app. There are more than 30 apps for dropshipping in the Wix App market. 
The payment gateway options on Wix are numerous. Wix Payments is Wix's own payment gateway that works in all major countries. If that's not enough, Wix supports all major payment gateways like Stripe, Afterpay, PayPal, Square, etc.
While these are great wins for Wix, it falls through in multi-currency selling. Even though there is an app that enables you to display the price in a local currency, users cannot check out products from a Wix store in their local currency.
Moving on to WordPress, since this platform does not have in-built shipping and payment functionalities, you need to turn to its ever-expanding directory of plugins. For example, if you are using WooCommerce as your e-commerce engine, it already comes with shipping and payment gateways enabled. The same applies for other e-commerce plugins.
Between Wix and WordPress (with WooCommerce), both of these more or less provide similar shipping and payment options.
3. Apps and Plugins
Apps are the Wix counterparts of WordPress plugins – extensions to increase the capabilities of your website. The Wix App Market has more than 300 web apps that offer features like payment options, contact forms, galleries, social sharing buttons, etc. The great thing about Wix apps is that you get ready-made modules for each task. This means you do not have to go looking for an app for a specific task only to find out that it isn't compatible, which is the case for WordPress, where you need to pick and install the plugins independently which requires coding knowledge.
Having said that, WordPress has tens of thousands of plugins that you can integrate with your online store/website to get extra functionality. Its open-source nature gives you additional freedom to tweak the plugins with custom code according to your site's requirements. WordPress also provides automated plugin updates which is a great feature to keep your site secure without manual intervention.
Bear in mind that free plugins are less secure than paid ones which can put your site at risk. So that puts an additional cost on top of the developer cost for bespoke integrations.
If you have the budget, WordPress wins in the plugin department.
4. SEO
If you look at Wix as a standalone platform, then it has the necessary tools for SEO fundamentals. With Wix, you can add your site to the Google Search Console, add SEO-friendly page title, description, and URL, add 301 redirects, change page slug and canonical URL, add structured markup, add ALT text to images, etc. Wix utilizes servers located worldwide to improve page load speed. The latest CSS standards are used. Accelerated JavaScript processing is used. Page content is cached.
Wix's SEO Wizard is also a great help for beginners with its step-by-step guide for optimization. When you submit the answers related to your brand to the wizard, it shows you a list of errors detected by the system which you can then correct. So essentially, Wix does what it had set out to do – make website building and maintaining easy.
But there are certain key areas where Wix falls short. Wix fails miserably in two out of three Core Web Vitals requirements laid out by Google:
Largest Contentful Paint (LCP) – It represents how quickly the main content of a web page is loaded

First Input Delay – This measures how long it takes for a site to respond to a user's interaction with it
This means Wix sites could be slower than WordPress and that is going to hurt search visibility since Google uses Core Web Vitals for ranking sites in search engines. In addition to this, Wix automatically adds cryptic names to images when they are uploaded, which could hurt SEO for image-based websites. That being said, a site's visibility relies a lot on great content, quality backlinks, and keyword research. So, if you are doing these right, there isn't much you need to worry about.
Where WordPress wins big in SEO is hosting. Since you can choose the hosting with WordPress, you have the advantage of superfast site speeds that search engines love. While WordPress has some SEO options out-of-the-box like great image SEO settings, adding permalink structure, utilizing pingbacks, indexable post tags, etc., adding an SEO plugin is highly recommended. Yoast SEO is a commonly used plugin that does a fantastic job. Much like Wix's SEO Wizard, it assesses your on-page SEO and provides easy-to-follow recommendations. Rank Math can be used to submit sitemap to search engines, integrate your site with Google Search Console, provide complete schema support, etc. All in One SEO plugin is also another great option.
As a standalone platform, Wix has more SEO features than WordPress which WordPress more than makes up for with its free plugins. While a lot of the job is made easy for you in Wix, you get a lot more control and enormous flexibility on WordPress.
5. Data Ownership & Portability
This is where Wix takes a massive blow. When you are building a site on Wix, you are using Wix servers, Wix templates, and Wix apps. So essentially, everything you build is technically "owned" by Wix save for the content you add. That is a big red flag. It can still work out alright until you decide to move your site from Wix to another platform. Wix doesn't give you an easy way to do this. It's not impossible but it's difficult. You have to download pages, videos, images, and all content manually and recreate everything on the new platform.
Unlike Wix, you are in full control of your data in WordPress. This makes it easy to transfer your WordPress site to a new host or a new platform altogether. WordPress comes with a one-click exporter which you can use to download your site's data in XML format. You can also easily export your site's content to external backups.
Read a case study about how we helped Goodyear Belts migrate their website from Wix to WordPress and set up B2B e-commerce functionalities.
6. Security & Support
While Wix may not seem up to snuff with flexibility and data ownership due to its closed ecosystem, it wins big in site security and maintenance. True to its purpose, Wix is pretty much a build-it-and-forget-it kind of solution.
Since Wix is a hosted website builder, it is their responsibility to ensure that your website does not get compromised, all transactions are PCI compliant, and your website is backed up. When you build a website with Wix, you automatically get a free SSL certificate, which means your customers get to browse your site on a secure connection. 
But with WordPress, you are in complete charge of your site. This means it is your responsibility to ensure that your version of WordPress is up-to-date, all themes and plugins are updated, and your data is backed up. While WordPress core code is rarely hacked, the same cannot be said for themes and plugins. Some of them can contain malicious code and you need to be extremely careful about selecting the ones you install.
So, as a WordPress website owner, it's your job to choose the right host, keep WordPress core, update themes and plugins, weed out bugs and errors, keep your site backed up, and properly locked down. While that may sound like a lot, you don't necessarily have to do all of this yourself. You can make use of plugins for some security protocols or hire a WordPress maintenance service to get it done for you.
Arguably, Wix sites are less vulnerable to threats than WordPress. And if anything still goes wrong, Wix has a support team available via chat, phone, and email to assist you any time you want.
WordPress does not have any direct support. Theme and plugin developers and hosting providers support their own products and services to some degree. However, you will find an extensive knowledge base of full libraries, tutorials, videos, courses, etc. If you have the time to look, you will find the answer to almost any problem, regardless of how complicated it is.
Wix vs. WordPress – Pricing
Wix comes at a flat monthly rate for e-commerce sites which includes all the elements you need from domain name and SSL certification to payments and support. You can choose a package according to the functionalities you need and the future plan of your store. With Wix, everything is more like 'What You See Is What You Like'.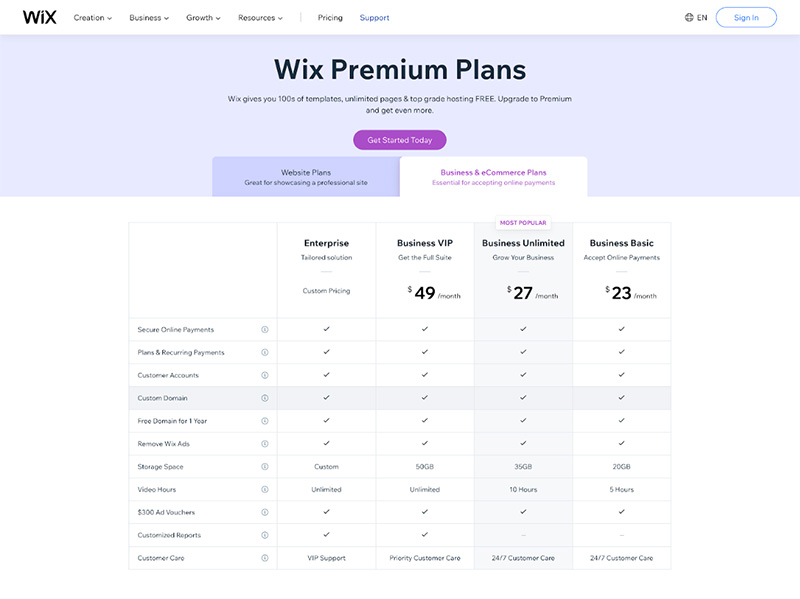 Things are a bit different with WordPress. WordPress can be downloaded and installed for free. But there are a few unavoidable costs to get your online store off the ground – hosting, domain name, and costs associated with an e-commerce plugin. Domain names cost around $15 annually. The hosting cost can start from as cheap as $3 per month and go up to around $30 per month. Bluehost is one of the most inexpensive web hosts with a monthly cost of $2.95 and the domain name comes for free with it. You'll get unlimited bandwidth, storage, etc. But once you hit about 10,000 visitors per month, you will need a more expensive and capable web host like WPEngine.
If you are using WooCommerce, its bare-bones storefront theme may not do it for you. So you will need to purchase a theme. The cost of a premium theme can go up to $200. You can use WooCommerce's out-of-the-box features or use additional free/paid plugins for shopping cart features, SEO, analytics, shipping, contact forms, etc. This cost will vary according to the plugins you choose, which could go up to around $200 annually or more. On top of this, there are going to be maintenance fees and the cost of commissioning a developer, if you need one.
Thankfully, websites need not be a financial drain or complicated with Wix. Wix could be a more affordable solution when you are starting out. But it's important to keep in mind that as your business grows, you will not have an option to upgrade and scale. The only way out would be to start over or migrate to a more suitable platform.
Wix vs. WordPress – What's the Verdict?
So, Wix vs. WordPress – which one should you choose to build your online store? If you are starting off with a small budget and a small number of products, Wix is the clear choice. You will get pretty much everything done for you. You need not worry about hosting, security, and unplanned expenses and you will get all the key features of an online store along with customer support. It's a great way to dip your toe in the e-commerce pool without investing too much. However, if you need more flexibility later, it is going to be a pain to migrate from Wix. Even with that, Wix is hands-down the more effortless way to build a basic online store from scratch. 
With a little bit of technical skills and budget, you will have a more long-term solution in WordPress. It is the better option for advanced e-commerce requirements if you are willing to put in the effort. It is significantly more flexible and you will always be in full control of your data. If you decide to choose WordPress, it makes sense to hire a development service that can pour in the expertise and experience to create an optimized website. The right company will know which plugins to choose for compatibility and easy scalability and will shoulder the entire maintenance and security of the website, saving you the headache.
If you are a beginner, the best solution is to try out the free Wix package to understand how everything works. Once you have an idea, you can decide which platform to go ahead with for your e-commerce venture.