Catalog Management in E-commerce – Everything You Need to Know
You start an e-commerce business one day with a handful of products. Things go well. And then after a few days, bam! Your product catalog snowballs. This is where the challenge begins. Managing your expanding product catalog is essential for a business to thrive in this highly competitive market.
What is Catalog Management?
We are all familiar with product catalog. In more common terms, it is also known as product data that include the title, image, specifications, price etc.
Catalog management is the process of managing this data in a way that ensures its quality and makes it configurable to the required format of consumers. It also includes optimizing, enriching and organizing product data accurately and effectively. Catalog data plays a key role in improving customer experience. It helps customers make the right buying decision.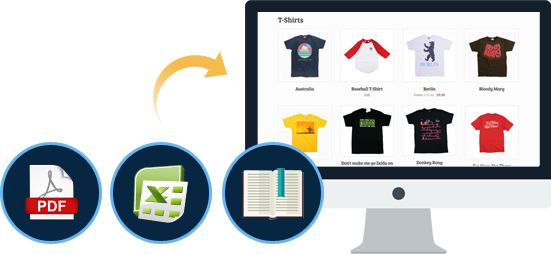 Image Source: https://www.quora.com/What-is-meant-by-Product-Catalogue-and-Product-Catalogue-Management
Such is the power of catalog data. Unfortunately, catalog management gets complicated as you decide to set up shop on multiple online marketplaces.
Challenges of Catalog Management
Many online retailers struggle with catalog management. Some of the common challenges faced are:
Multiple Channel Marketing
The primary reason for multiple channel marketing is product exposure. However, all the channels have different terms and conditions of product listing. This means, for every channel, the catalog needs to be modified accordingly. This brings in the challenge of clever content management to ensure consistency across the channels while adhering to the guidelines of each.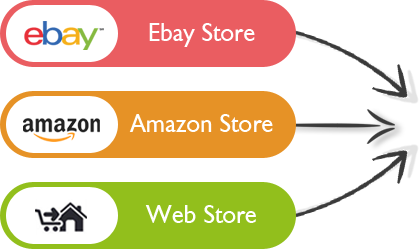 Image Source: http://www.syncline.co.uk/
Updating Products Regularly
Product data must be kept up-to-date with any price change, new product addition, new trends etc. Apart from that, product catalog updates keep interested buyers from getting bored with repetition. Hence, it needs to be done regularly. This becomes especially difficult when you have a large inventory.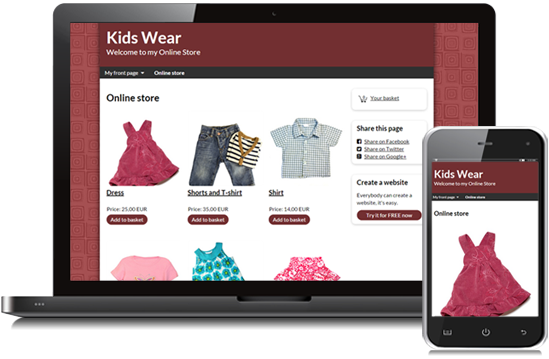 Image Source: https://blog.simplesite.com/p/free-online-store.html
There is no doubt about the competition that e-commerce business owners face today. This brings in the need to manage catalogs in a way that constantly keeps them ahead of competition. In other words, the product copies need to be searchable, user-friendly, grammatically correct and attractive to enhance customer experience. The challenge is achieving all of this, times the number of your SKUs.
Making Sense of Supplier Data
Handling product catalog data from suppliers is a major task. Not all suppliers send over complete product descriptions. In some cases, you may also be provided with wrong formats. Manually fixing the bulk of such product descriptions is definitely a tall order.
How to Overcome These Challenges?
De-cluttering the product catalog system is no doubt, a tedious task. Nonetheless, achieving it is necessary to keep your business running. So, what does it take to overcome the challenges of catalog management? Time and the following procedures:
1. Turn to Excel
Excel is a powerful organizer. And it's free. You can use it to manage your product data from all sources. That said, you would need to spend a good amount of time in the beginning to get all the data transferred, sorted and properly formatted in Excel. Once this is done, all you would need to do is keep it updated with every change in the catalog.
Image Source: http://www.gomakeasplash.com/catalog-maker/catalog-maker-for-your-store.html
2. Verify Product Catalog With Suppliers
If you receive incomplete or wrong product information, it is wise to speak directly with your suppliers to clarify the mistakes. Ensure that the product identifiers provided are unique to avoid duplicate listing.
3. Compare Product Descriptions to the Products
Read all the details of the product description and match it with the actual product. Ensure that the information is complete and relevant. This will ensure that shoppers aren't poorly informed about the products.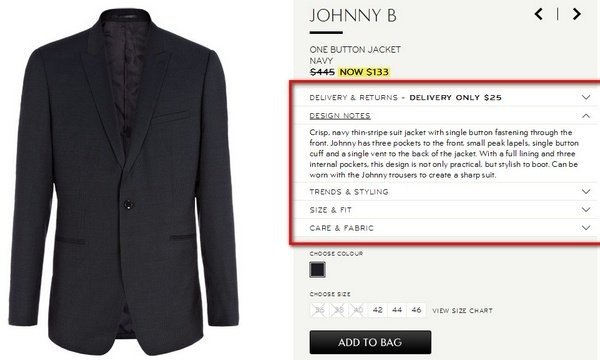 Image Source: http://artatm.com/2012/10/12-must-have-features-of-ecommerce-websites-for-increasing-sales/
4. Automate Your Catalog Management
If you have a large inventory, you may consider using a Product Information Management System (PIM). These are centralized software that enables e-commerce business owners to manage their products using one software. PIMs make it easy to sort and publish product data to all your sales channels. It helps maintain quality of the data and removes the hassle of sorting everything manually.
Image Source: http://www.desl.net/applications/product-information-management/
Some Useful PIMs
There are various catalog management software that can help you along the way. Let's take a look at some:
1. Skubana
Skubana is one of the popular inventory management systems that you just cannot ignore if you are an e-commerce business owner. It provides you a platform to centrally manage your inventory and synchronize it with each of your sales channels.
2. Salsify
Salisify is a product experience management (PXM) platform that delivers amazing product experience to customers regardless of where they shop online. The best thing about Salsify is that ist applies machine learning across the product database to generate insights about the content performance. These insights are then implemented in future product content refreshes to improve sales.
3. Plytix
Plytix allows you to centrally manage and distribute product content to various marketplaces. Its automated product update feature can save you a lot of time. Additionally, it creates interactive catalog portals for customers to browse and choose the content format they want to read.
4. Elastic
Elastic is a complete B2B solution for all e-commerce owners. It has a variety of tools to cater to your sales process requirements. One of its specialties is building catalogs based on the purchase history and preference of your customers.
5. Catsy
Catsy allows you to organize product images, their specifications and other related data within its Product Information Management (PIM) System and directly integrate it with desktop publishing tools. You can import/export data and publish it in multiple e-commerce marketplaces with ease.
Here is an expansive list to the PIM tools that may come in handy for your business.
That said, it is important to keep in mind that all sales channels keep updating their terms of use and requirements. Consequently, it becomes difficult to keep your catalog organized and effectively distributed even with an excellent PIM in place.
How We Helped a Client With Her Catalog Management
Just a PIM isn't always enough to manage a large inventory especially when you are selling on multiple channels. Ruth, the owner of Lake Country Boutique sells her products on eBay, Amazon, Walmart, and Shopify. She also has a brick and mortar store. Such multi-channel presence of the store made it challenging to upload the products to all of them accurately and also manage the catalog efficiently.
So, we developed and deployed an interface that automates every manual step that Ruth executes for uploading products on all the e-commerce sites.
All she needs to do now is upload a CSV file with appropriate columns to this interface
It takes over from there and uploads the product data in bulk to all the shopping websites
During the process, Ruth can check the progress of the upload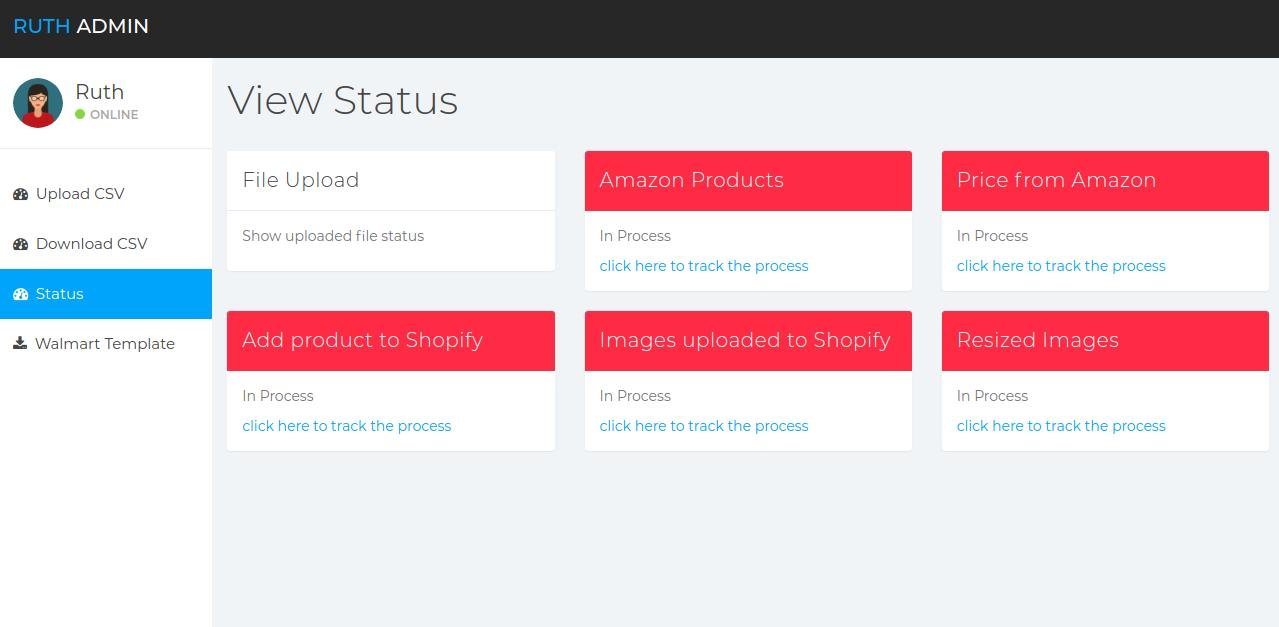 Once complete, she can download the CSV files with information filled in it
It's as simple as that. We also created a Walmart template for Ruth that performs similar functions.
For more information on the project, check out the complete portfolio on our website. You can also read about some similar projects.
If you have any query regarding catalog management, you can Email us. We'd be happy to help you.